This Industry Viewpoint was contributed by Michael Quinn, Partner & Jordan Rupar, Associate of Q Advisors
There are a number of broad economic factors fueling M&A activity in the cloud and managed services sector in Europe heading into Q2 2016 including:
Strong corporate balance sheets;
Access to capital;
Continued low interest rates;
Low but steady economic growth; and
Cash-rich European and U.S. consolidators looking to expand geographic reach in a very fragmented market.
While the 2016 telecom M&A forecast overall appears robust, the Cloud Contact Center and Hosted UC applications sectors specifically are expected to see the most deals in 2016 and beyond. This is being driven by highly disruptive proprietary cloud technologies and rapid user acceptance and adoption.
Something for everyone
In the M&A buyer triad, all the key players are seeking opportunities in these sectors, be they solutions providers, private equity partners, or traditional telecommunications operators. What can we expect will bring them here?
Solutions providers will continue seeking transformative M&A opportunities related to their cloud strategy. This could include:
Entering new lines of business;
Expanding market presence to new geographic regions/countries;
Acquiring new technology platforms/solutions; and/or
Acquiring new customer bases, often moving up market into mid-to-large enterprise segments.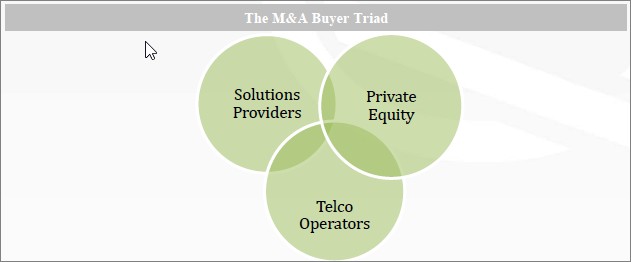 The private equity community is expected to increase acquisitions across the cloud and managed services landscape driven by their preference for the recurring revenue model of proprietary technology-based businesses. As we have often seen, they are inclined to fund the transformation of legacy revenue/customer base to cloud-based recurring models. The PE community continues to be on the hunt for platform companies in Europe to take advantage of the fragmented nature of the marketplace.
Traditional telecommunications operators are expected to augment their existing solution portfolios through the acquisition of cloud and managed services platform companies. We anticipate seeing a renewed effort in attracting SMBs and enterprises through the upsell of additional cloud-based managed services. While Telcos often favor proprietary technology as the core platform to build their cloud and collaboration portfolios, they may make bolt-on acquisitions of incremental cloud solutions, a complementary customer base and/or to expand their geographic reach.
Valuation Drivers
There are 5 key company attributes that will demand a market premium in 2016 and beyond.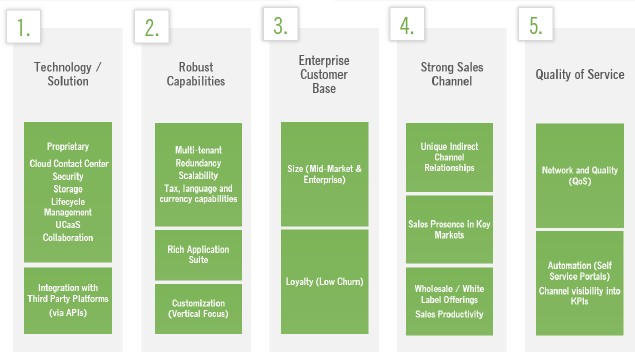 While the presence of any one of these factors is an impetus for driving valuation, the combination of all or a majority is what truly differentiates a more highly-valued acquisition target. In particular, while a strong technology/solution is a prerequisite for garnering interest, drivers such scalability, ARPU, churn and channel are where companies can really distinguish their competitive advantage and command higher valuations. Recent examples include: West's acquisition of Magnetic North for their scalable proprietary cloud contact center solution at revenue multiples north of 3.7x LTM, and magicJack's acquisition of Broadsmart at a price of 3.2x LTM revenue, owing in part to the strong channel and profitability of the target.
Accelerated Cross Border Activity
Global, cross-border M&A activity is at an all-time high, hitting a record-setting quarterly growth rate in Q4 2015. Telecom and Technology represented the most active sectors in terms of cross-border deal activity. U.S. buyers are fueling these transactions at 41 percent of outbound M&A. Representative transactions such as Broadsoft's (US) acquisition of PBXL (Japan), and Arkadin's (France) acquisition of AT Conference (US), amongst others, can be seen in the charts below.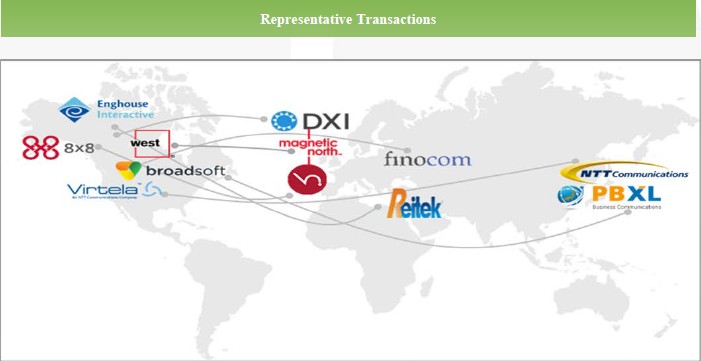 As the numbers in the chart below indicate, strategic acquirers are paying a premium for expansion outside of domestic markets.

Conclusion
The European market remains highly fragmented in both the UCAAS and cloud contact center solutions sectors. In terms of maturity, Europe is tracking about three years behind the U.S., in part due to the lack of a ubiquitous broadband play across the EU member countries. An opportunity exists for strategic acquirers to create a large platform company across Western Europe, targeting both the SMB and enterprise sectors, and provide a suite of cloud and managed services. Valuations remain attractive as there is no dominant player in the market.
MICHAEL QUINN is the founding partner of Q Advisors. With more than 25 years of international operations and investment banking experience in the telecommunications industry, Michael has originated, structured, and executed more than 100 deals totaling more $4 billion in transaction value. Michael's deep industry expertise and extensive transaction experience has enabled him to lead M&A and debt and equity financings in a variety of TMT sectors including cloud and managed services, competitive wireline telecom, wireless, digital media, social networking, mobile content, satellite and mobile infrastructure and solutions.
JORDAN RUPAR is an associate with Q Advisors. She joined Q Advisors in 2012. During this time, she has executed numerous mergers and acquisitions, equity financings and strategic advisory assignments for clients across the telecom, media, and technology (TMT) industry with a particularly deep focus on cloud communications, software and technology, and other emerging growth sectors.
About Q Advisors
Q Advisors LLC (www.qllc.com) is a world-class global boutique investment bank formed in 2001 serving public and private companies, PE firms, entrepreneurs and large multi-nationals in the telecom, media, and technology (TMT) sectors. The firm has extensive, global reach, while also providing the personalized service of a boutique advisory firm. Thanks to our partners and senior staff, who come from leading investment banks and operating companies, we leverage extensive industry knowledge and analytical insights to help
If you haven't already, please take our Reader Survey! Just 3 questions to help us better understand who is reading Telecom Ramblings so we can serve you better!
Categories:
Industry Viewpoint