The dust from the announcement of the Verizon/XO deal has had a day or so to settle now.  Let's ramble on a bit about a few unanswered questions, both from the past and for the future.
LMDS Spectrum – Was this truly the driver for Verizon's purchase? Does the leasing of that spectrum with an option to buy mean that much to the company's 5G? If so, what other pockets of LMDS spectrum are out there that have suddenty gone from worthless to valuable? Straight Path Communications is already making a play of it it seems with the former IDT spectrum, I hadn't even noticed that until yesterday. Level 3 had a pile from the Telcove deal, but one has to invest at a certain level to keep such things according to the rules from the original auction. XO did, I have no idea if Level 3 did the same. But I'm still waiting to see if this new world where 5G needs LMDS will actually materialize.  The fact that Verizon didn't just buy it outright suggests someone is hedging their bets here.  It could be Verizon that doesn't want to pay Icahn's price unless they really need it.  Or depending on the terms of the option it could be Icahn making a bet that there could be a little more blood to squeeze out of this stone if he just waits yet a little bit longer.
Verizon as a CLEC — Until now, Windstream was the only major ILEC that has made a serious effort at competing in CLEC costume in other ILEC territories nationally, courtesy of the PAETEC and KDL deals. Yes, Verizon had the MCI/Worldcom/MFS assets of course, but those were more of an IXC with metro fiber and a large enterprise focus than competition at the SMB and mid-market level where XO has plenty of revenue. What does Verizon do with it, and what do their ILEC neighbors think about it? Verizon's focus hasn't been anywhere near the SMB and mid-market for many years, it's hard to imagine them seeing the XO purchase as an opportunity to change that.  I mean, Verizon *could* use XO as a platform to revitalize its efforts on that front as well as on wholesale.  It's just that of all the ways I might have come up with for them could choose to do such a thing, buying XO would not have been near the top of the list.  It's not big enough to move the needle, and it isn't growing fast enough to add much dynamism.  Of course, I could be wrong about that.  Or they could be.
XO's intercity fiber – This has long been a point of dispute between partisans of Level 3 and XO. XO's national fiber IRUs on the original Level 3 network buildout were designed to make them XO's fiber in every possible legal sense, unlike the usual sort of IRU. They originally had 24 strands and an option on fiber pulled through a new conduit, but during the dot com crash they returned 6 of them in return for lower O&M and such. The exact terms of the deal are now known only to Level 3 and XO, and now presumably Verizon. But the scuttlebutt has for many years been that when they run out, at a time that may or may not be in 2-3 years, Level 3 would use what leverage they have over accessing and maintaining the fiber to bring it back in house or otherwise get it effectively off the market. It had the potential to be ugly, but I think the Verizon deal completely changes the picture. Level 3 didn't want XO to have it because XO was using it to compete in the wholesale transport space. Unless you think Verizon cares more about that space now than it has in the past decade, Level 3 has every reason to come to some new sort of deal with Verizon. Any additional revenue they can get off of 20 year old fiber is gravy if it doesn't materially change the competitive environment the way it did in XO's hands. The fiber adds to Verizon's diversity, and while they don't need it moving off it would be a pain, so they'd have reason to deal as well. So if Verizon's purchase goes through, I suspect this longstanding uncertainty gets resolved over a few beers.  But we will probably never hear about those details either.
The Icahn/shareholder lawsuits – These are in court now, apparently, after years of lawyers doing what lawyers do.  Does this $1.8B deal have any affect on those deliberations?  One can easily argue that between the $1.8B, the remaining spectrum, and the benefit derived from the NOLs elsewhere in his business, Icahn made out like a bandit since he forced minority shareholders to sell to him in 2011.  That's perhaps why he played down any success with XO since his entry back in the 2002 timeframe in the quote supplied with the PR.  It won't affect Verizon of course, which of course can afford more lawyers than even Icahn can.  But there are still a lot of people involved in these unresolved soap operas from the past.  Now that XO itself stands to be consolidated, those chapters seem likely to be completed as well.
Verizon's appetite from here – Verizon buying XO leads inevitably to the followup question: what else might they be hungry for?  Is this a one time thing, or are there underlying drivers that will make other deals similarly attractive to them?  If it's LMDS spectrum they want, how much do they want to have?  And if Verizon wants it, is AT&T ever far behind?  If it's fiber assets, which ones were the real targets?  I mean, Verizon hasn't bought fiber since the MCI/Worldcom deal, and they've sold rather a lot of it – albeit entangled with copper.  In fact, they're still in the process of selling some of it now to Frontier.  I don't even pretend to have the answers to any of these questions yet.  Thoughts?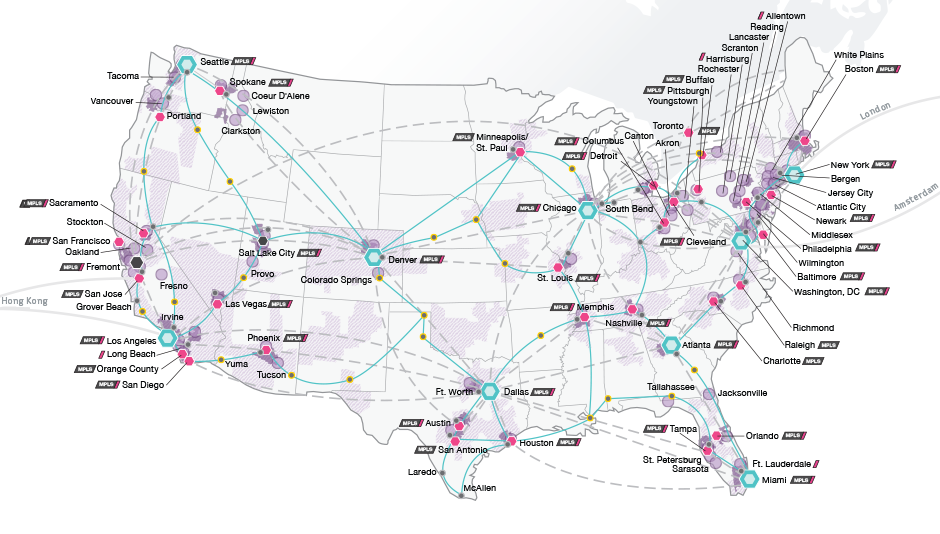 If you haven't already, please take our Reader Survey! Just 3 questions to help us better understand who is reading Telecom Ramblings so we can serve you better!
Categories:
CLEC
·
ILECs, PTTs
·
Mergers and Acquisitions