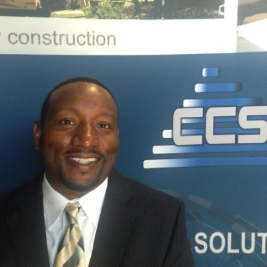 Today we are going to delve deeper into the nuts and bolts of the networking industry.  With us today is Pervis Conway, who is founder, CEO, and President of Construction-CAD Solutions (CCS).  CCS is an engineering and construction firm based in Chicago that cut its teeth on the HFC buildouts of the dot-com era.  Today the minority-owned firm is busy doing the engineering work necessary for operators to build out fiber backhaul networks to the wireless towers and small cells that power today's growing mobile data tsunami.
TR: How did Construction-CAD Solutions get started, and how did it become what it is today?
PC: CCS has been in business for 17 years now, and it has grown to be one of the largest telecom engineering firms in the Chicagoland market.  I started it in my apartment bedroom in 1998 doing hybrid fiber/coax engineering projects for TCI (now Comcast), back in 1999-2000.  They were doing a huge upgrade here at that time, building out the Chicagoland market with HFC.  We then shifted into a maintenance company for a good portion of the last 10 years.  Then two and a half years ago we began doing fiber deployment planning, fiber engineering, and feasibility studies for other major cable companies and CLECs.  We've grown from past experiences into a go-to company for OSP network information.
TR: What made you decide to go independent and start your own firm?
PC: I came from humble backgrounds.  I started out working on the fiberoptic sections of toll plazas for one of the first companies to start the electronic toll collection you see around the country today.  That company went out of business, and I went independent for a year and a half.  Then an opportunity came up while I was working out of my apartment to work with TCI (now Comcast).  I worked day and night, doing the work of 4-5 people to keep up and prove that I wanted to be a part of this industry.  It started off with just me, then I had a partner, then a third, and today we are over 100, which is a pretty good size for Chicago.
TR: What kind of projects have you been working on lately?
PC: The majority of the work we do is here in Chicago, focusing on fiber infrastructure for small cell and wireless backhaul design.  We're doing a lot of the right-of-way solutions, the permitting, clearance reports, joint-use reports, and a lot of the fiber network design for companies like Comcast, Verizon, and WOW!.
TR: How do you see network operators approaching the small cell and wireless backhaul market today?
PC: One of the things we do is sit down with those fiber providers and see where their routes are, where their redundancy is, and where the cell towers or small cell nodes are being placed.  Verizon is leading the charge on small cell here, but what I'm seeing is a lot of fiber companies jumping in line to not only provide fiber to cell companies for backhaul but also to use the opportunity to improve their own fiber footprint.  I'm seeing that all over the place, not just in Chicago.  If they are building out a fiber network for one of the major cell phone providers, and they have to extend their fiber five miles outside of their footprint, they are going to take advantage of that footprint and overbuild and extend their other services further.
TR: When did you see this shift in behavior?
PC: It just started over the last couple of years.
TR: Do you mainly do the engineering work, or do you also put on the hardhat and take on the construction side?
PC: We do, on a small scale in certain situations.  We are a turnkey provider, but our engineering department overwhelms our construction department.  For small maintenance projects or build-outs under 100 miles, yes we have that capability for fiber, coax, or copper.
TR: What size projects do you work on for the engineering side?
PC: From an engineering standpoint we are capable of turning up 4 constructible engineering drawings for upwards of 2000 miles per year.  That's pretty huge, and a lot of companies outsource these things to multiple engineering companies.  We're not the big fish in the room, but I think for a company that is looking for speed-to-market and someone to give a company a huge volume of work to and expect it to get done in a short time frame, I think we're pretty good at that.
TR: You recently announced an expansion into the Canadian market.  What does it take for you to expand your business geographically?
PC: I've worked all over the country, but we do it with a centralized engineering force.  When you are talking about field data collection and understanding the various municipalities across the country, we visit those and learn what is needed in order to provide approval for constructible engineering drawings.  We go out and make the necessary investments in that area for both personnel there and here to get that project information to provide the customer engineering insight, but we don't have to have a huge presence there.  For example, if I'm doing a 400-500 mile project in Portland, in the past I would have to hire 40-50 people because you needed an army of field technicians to survey and do the work.  With new technology like GPS, LIDAR we can send out a smaller workforce to gather the information we need, speak with the different municipalities that are affected, bring that information back to a central hub, manage it here under our watchful eye, and distribute the finished product back out to the client at their specifications with a very quick response time.  We are working on contracts right now with potential clients in California and Canada, and we have a government project in Nicaragua that is on hold.
TR: What sort of projects do you anticipate taking on in Canada?
PC: It will be strictly engineering, no construction.  We haven't done any work there yet, though.  What we have done is register as a business entity, and our next steps going forward are project scope.  It's premature, but we are getting very close to starting a huge FTTH project starting off in Toronto and then moving on throughout the country.
TR: What is the most challenging project you have encountered?
PC: We are knee deep in one of the most challenging projects I have ever been involved with.  It's a 2000 mile, 800 cell-site build here in Chicago, split into 49-50 redundant rings.  We've literally had to manage the entire project and the construction from its inception, and our client has given us very, very tight deadlines.  I'm proud of our workforce, and we've put a lot of time and hours to get to where we are now.  We are on schedule and within budget.  Compared to some of the HFC designs earlier in our existence, this is a high paced, high stress environment.  But it's what we do and it's what we are good at.
TR: What does the workflow look like for such a project?
PC: Most projects start with a KMZ file of the end client's assets and what they are trying to do.  Our project is then broken out into rings. Cell companies have their own mechanism for keeping their towers functioning and their information flowing, and they have deadlines where they need to do cutovers and transitions.  Everything we do is subdivided into rings, and certain rings have greater importance.  We take the information of the tower locations and analyze it alongside already constructed backhaul resources, and then negotiate with them on fiber or duct availability.
TR: How has technology changed how you do business over the last two decades?
PC: I've been doing this so long that for many years we were using the old wheel and pole stick technique.  That's antiquated now, and if you want to keep up with customers demands you have to go digital.  One of the dreams that I had 10-12 years ago is to become paperless, to take a map out that is always written into a GPS unit, collect points, and write script to create the drawing.  And that's what the end result is now.  We can eliminate many potential errors as data passes from a field tech to a cat operator to an engineer out to a permit overseer for a municipality, and back to our hands as a full-fledged engineering drawing that can be constructed.  If we eliminate a lot of the hands that the data touches, it becomes more embedded and true from source to end user, and I think we become more efficient and projects get done faster and more accurately.
TR: What new technologies do you see as critical to continuing that trend?
PC: We use more LIDAR scanning technology than ever.  It consumes an enormous amount of data and in order to fulfill some of the needs, we definitely have to have a robust network of our own.  Just storage of the data we are using to do our engineering work on requires multiple terabytes.  From a network standpoint, that's a part of our business that we are really still building.
TR: What does greater use of LIDAR do for you?
PC:  It is more accurate, it is faster, and once we go out to an area, it eliminates that second or third trip. Once we have that data on our server, we don't have to go back.
TR: Thank you for talking with Telecom Ramblings! 
If you haven't already, please take our Reader Survey! Just 3 questions to help us better understand who is reading Telecom Ramblings so we can serve you better!
Categories:
Cable
·
Industry Spotlight
·
Metro fiber
·
Wireless