Today Comcast Business has revealed plans for a new Enterprise Services unit that will target larger enterprises with more complex infrastructure needs than Comcast Business has targeted in the past.
For several years now, it has been one of the questions people ask about cable operators. Given all their success at the smaller end of the business markets, will cable operators make a move on larger enterprise opportunities? Given their regional franchise-based footprints, can they operate effectively for deals at the national level? Are their product portfolios ready to to head to head with the battle tested versions offered by national telecoms, whether it is the incumbents at AT&T, Verizon, and CenturyLink or their nextgen challengers at Level 3, Zayo, etc?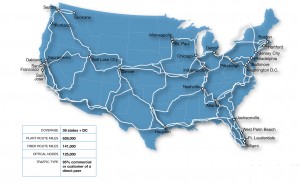 Comcast operates a substantial national network of course, with some 141,000 route miles of fiber and another half million or so when you include legacy coax and such.  The intercity footprint is built off of dark fiber IRUs, for the most part.  But at the metro level, their footprint is their own build and coverage is either very deep or non-existent, depending on whether they have historical cable franchises in the area.
Comcast plans to get past the regional limitations through wholesale relationships with is cable brethren. They may not have a New York City footprint, but TWCBC and Cablevision's Lightpath division do, for instance. And to manage such wholesale relationships, Comcast apparently purchased a company called Contingent Network Services a few weeks back.  What happens when Cox or TW Cable decides to similarly go national is an interesting question, as those relationships start to get pretty complex.
Cable operators have found significant growth opportunities in the business markets over the past 5 years. Through both HFC and pure fiber deployments, many have been growing those revenues at a clip greater than 20%, despite the fact that the dollars involved are no longer small by any measure. Comcast's Business Services division turned over $4B last year.
But are they nimble enough to move up a few rungs on the ladder already? It's one thing to provide metro ethernet and maybe a little hosted voice to an SMB at one location. It's quite another to put together a multi-state managed WAN that supports a hybrid cloud infrastructure and spans multiple providers with different back-office systems and vendor gear, even with the help of Carrier Ethernet standards and all that.
They have a couple advantages though. The first is that the likes of Verizon and AT&T may have the reach and the resources, but they are rather more interested in the wireless world and have been on defense in this sector for a long time. And the second is that unlike the Level 3s and Zayos of the competitive world, the cable MSO world already goes almost everywhere at least with coax. If they can work together, they start with fewer off-net or build-out needs for more opportunities.  In theory anyway.
If you haven't already, please take our Reader Survey! Just 3 questions to help us better understand who is reading Telecom Ramblings so we can serve you better!
Categories:
Cable
·
Metro fiber