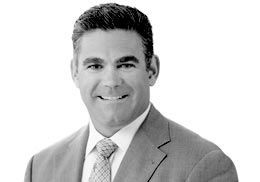 Today we will take a look at the development side of the colocation industry.  The appetite for colocation space has been insatiable over the last decade, with cloud and content now increasingly driving things.  With us to give his view is industry veteran J. Todd Raymond, Managing Director and co-founder of 1547 Critical Systems Realty, and one of the original co-founders of Telx. 
TR: How did 1547 Critical Systems Realty get started?
JTR: 1547 Critical Systems Realty was formed by my three partners, Jerry Martin, Pat Hynes, Cory Welp, and myself to develop data centers, to take our collective expertise and apply it to unique and opportunistic projects.  Jerry Martin and Pat Hines comprise the partners of the Martin Group, which has been constructing data centers for the last 12 years, and I got to know them when I was at Telx whom they built several data centers for.  They were looking at a property they had been engaged in for a site-cert in New York for a financial institution.  The financial institution passed on it but they really thought it would make a good data center.
TR:  And this became your first project in Orangeburg, NY?
JTR: Yes.  I liked the building, and thought it had significant benefits.  It was an untapped and unknown area, but it had great power capacity, multiple substations and generation facilities, and relatively cheap power compared to the tri-state area, good access to fiber, and the bones of the building were great.  In Orangeburg now we have a 232,000 square foot building on a 32 acre campus, and we currently have 24MW to the building with 3 tenants and are 40% occupied.  We have already received the entitlements for a second building of similar size and a 50MW substation.
TR: What made you decide to take on other projects?
JTR: Ultimately, the conversation turned to putting a team together to look at building some additional assets.  We believe there are opportunities in the market that most other firms would normally pass on because they have too much "hair" on them, or the effort it would take to build, rebuild, or repurpose in a unique market is too much brain damage.  We like those opportunities.
TR: What other projects have you been working on, and what drew you to them?
JTR: Our second project is in Cheyenne Wyoming, which is not necessarily a hotbed for data centers.  However, we had an anchor tenant with a small facility there, Green House Data.  They wanted to expand, and we acquired land next door.  It's 47,000 square feet of colocation space with four 1MW pods plus 7,500 square feet of office space, and they have half of the building utilized. We have two additional sites on that campus that we can build similar buildings of the same size.  Cheyenne is a unique market with not many multitenant data centers, there is a strong fiber route that runs right through it, power is ridiculously cheap compared to the rest of the country, and we had a tenant.
Our third facility is in Kapolei, Hawaii.  It was a former GTE/Verizon central office building that had been mothballed.  It sits up on the hill, adjacent to the Hawaii-Pacific Teleport.  We partnered with the teleport, who had purchased the building, and initially developed it as an interconnection point for the undersea cables, five of which land on Oahu and have access to it.  It's another unique opportunity most firms would have passed on, but our interconnection expertise told us this could be an amazing facility for us.  We are in the process of repurposing that building now.  But it also soon became apparent that there was also a strong need for on-island disaster recovery for Honolulu-based companies.  It wasn't a market we expected to see a lot of demand from, but we have been.  It's going to take some time to develop.
TR: At what stage are you at with each project?  Are you building the second phase already?
JTR: In Orangeburg and Cheyenne we are actively building the second phases.  In Hawaii we are not yet, although we are 25% occupied and have just started the engineering for the second phase.
TR: These three projects cover a lot of territory, how do you find and select opportunities like these?
JTR: Part of it is the relationships that I've built in the marketplace.  I spent the last two years of my career at Telx running the M&A and space acquisition group, looking for space in which to grow the business.  I got to know a lot of landlords and property owners, and part of what I do for 1547 is to continue and build those relationships and try and structure transactions that will benefit all the parties.
I'd known Shawn Mills, the CEO at Green House Data and knew he was looking to expand.  And we'd looked at the Hawaii-Pacific Teleport project when I was at Telx, but they didn't work for Telx at the time.  Both opportunities were still available when we formed 1547, so we touched bases with them and moved them forward.
Other opportunities come through the construction side, where The Martin Group will be doing a build for somebody and might find out that party might want to do a sale/leaseback.
TR: What's next?  Where are you looking?
JTR: We have a pipeline of 20 deals.  Obviously not all of them will get done, but maybe 3-5 of them by the end of the year.  I think it is opportunity- and tenant-driven.  We like to go in with an anchor tenant, and we generally do not build on speculation. We've looked at assets as far away as Alaska and, obviously, Hawaii, but it always comes down to the transaction itself.
TR: Do you also have an interest in expanding via M&A as well?
JTR: Yes, it's part of our model.  There are a number of single site operators and some that have two sites that would benefit from having a national platform like we are building for sales, marketing, and operations.  As you know, a lot of the larger buyers of data center space shy away from single site operators.  They want someone with financial stability and the ability to service their needs in multiple markets.  We've created a structure where those single-market folks could roll their properties in, take some money off the table, participate in the upside, and be part of a larger portfolio and team.
TR: How do you see pricing for M&A opportunities in the collocation sector currently?
JTR: I think on the retail colocation side, the market is fully priced.  With the public entities trading where they are, anything of size is going to trade at a full price.  The opportunities we look at tend to be owners that have probably reached the end of their ability to finance continued growth or require material upgrades, for example to repurpose mid-90s to early-2000s telco data center into a modern 2015 higher density facility.  That's where our focus is.  We're not out there buying fully valued carrier hotels.
TR: How have you funded your initial build-outs, and do you expect to need to raise further capital?
JTR: It has been funded mostly internally for the three projects so far.  We have three banks we have been using, and because these are properties with tenants we have been able to get reasonable debt on all of them.  In Cheyenne we have an SBA-backed loan, and in Hawaii there is a private equity firm that backed the project.  But we have more opportunities right now than we can handle, and we recognize that we are going to need more capital than the checks we can write personally.  So we are already well on our way to choosing a financing source for the next wave.
TR: You aren't structured as a REIT yet.  Do you envision doing that in the future?
JTR: Legally, the way we have structured the business, the entities could easily be dropped into a REIT seamlessly.  But once you are a REIT you can never go back.  You have to pay out a lot of cash flow, and we don't have a lot yet as they are in development.   Once you get to 40-50% occupancy the real cash flow starts, and we are getting there.  But it's too soon.
TR: Content providers have been pushing out toward the edge lately, is that something you have seen in the development opportunities you have come across?
JTR: I think there are a number of technology companies pushing toward the edge, whether they need to be closer to universities or hospitals or distribution points.  We didn't build Cheyenne or Hawaii because they are on the edge, but they certainly are and we will use that as part of our marketing.  I do believe that Hawaii is interesting, and large content providers have reached out to us.  That facility is not designed for it, but we do have additional land to build another building on, and we are looking at that now.
TR: Do you have any interest in developing properties outside the US?
JTR:  We're focused on US properties right now.  But we do have a development opportunity on the west coast of South America in Chile, and we're discussing a partnership with a construction group there.  We will go wherever our customers and tenants ask us to.  We'll find a solution that fits them and then overbuild.  We like to find a location where we can build a multi-building campus where we can bring the fiber and power infrastructure in and leverage it across multiple buildings.
TR:  Thank you for talking with Telecom Ramblings!
If you haven't already, please take our Reader Survey! Just 3 questions to help us better understand who is reading Telecom Ramblings so we can serve you better!
Categories:
Datacenter
·
Industry Spotlight