Zayo announced today that will be taking over the network oversight and support for Colorado's EAGLE-Net Alliance. EAGLE-Net is a quasi-governmental organization aimed at getting fiber to the harder to reach parts of Colorado — which pretty much means anywhere but Denver and Colorado Springs.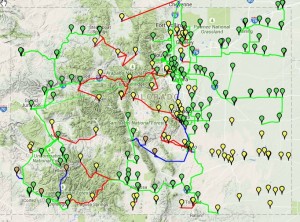 EAGLE-Net won a $100.6M BTOP deal to bring fiber to anchor institutions across Colorado a few years back in 2010. But they soon ran into trouble after only hooking up a little over half of the promised sites before running out of money. After a suspension by the NTIA was lifted, they tapped Affiniti of Colorado in 2013 to help finish the project, essentially privatizing the operations to a previously unknown company.
Apparently that hasn't gone very well either, which will probably surprise nobody who has been involved with the project over the years. In a letter today to its customers, EAGLE-Net was quite blunt that Zayo is in and Affiniti is out:
Effective immediately, EAGLE-Net is very happy to announce that it has established a partnership with a new network operator – Boulder, Colorado-based Zayo Group – to enable EAGLE-Net to continue its goal of providing cutting-edge broadband services to schools, community anchor institutions and businesses across Colorado.  Zayo is replacing Affiniti Colorado LLC, which is no longer EAGLE-Net's network operator.
At the moment it is an interim agreement, while the two sides work on an expanded long-term partnership. While EAGLE-Net emphasized that services will not be interrupted etc, the fact that an interim agreement is necessary suggests that they had to move quickly.  But I have yet to hear just what prompted the abrupt about-face and in whose hands the fiber Affiniti was operating now sits.  If anybody has any details, we'd love to hear them!
Zayo would have been a logical candidate for this sort of thing from the beginning of course, and in fact they provided a bunch of dark fiber to EAGLE-Net's network along the way.
If you haven't already, please take our Reader Survey! Just 3 questions to help us better understand who is reading Telecom Ramblings so we can serve you better!
Categories:
Government Regulations
·
Metro fiber