Following up on last week's bid for the remainder of Colt it doesn't already own, Fidelity confirmed this week that it won't be increasing its bid despite the view of independent directors that it undervalues the company. So what happens next? We wait to see if another bid emerges, and then we find out what Fidelity really wants.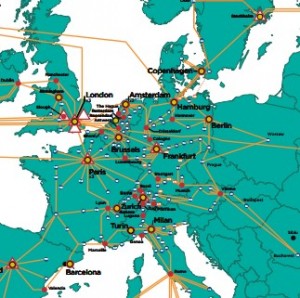 The obvious buyer, at least from my viewpoint, was, is and remains Level 3. While they are busy with the tw telecom integration, a European move wouldn't overlap with that effort. Colt's reach and enterprise customer base is basically an ideal target for their European rejuvenation, and has been for a long time. The current price of 190p per share that Fidelity is offering should be easy to beat.
But you have to figure Colt, Fidelity and Level 3 had this conversation a few times, so why go this route? Why not just seal the deal?  The European infrastructure world is in flux right now, and there are perhaps more potential buyers than there have been in some time.
From the outside you have US private equity interests, the most obvious of which would be headed by Zayo, but also wildcard billionaires like Carlos Slim or Naguib Sawiris. Meanwhile, CenturyLink has been talking up the international angle, and AT&T has been busy in Mexico so they can't be totally ruled out either.
And from the inside, one of the continent's incumbents could easily decide to step in. DT already bought GTS a while back, and making a similar move on Colt would fit well with those assets. Teliasonera's International Carrier division could also easily do the job. Another could be Vodafone, which could add some more fiber glue to its other European assets to go with the C&W footprint.
And the other possibility is that Fidelity really does just want to take the company private and intends to play a bit of hardball to get it at the lowest possible price. They don't have to sell to anyone, and so it doesn't matter if someone else makes a bid that Colt's independent directors do approve of unless Fidelity's itch is scratched. If that sounds a bit like what Carl Icahn did at XO a few years ago, then welcome to the cynics club.
Honestly, though, it seems more likely that this whole charade is aimed at squeezing a better bid out of Level 3. While other buyers could make sense, it's Level 3 that has the most motivation at present, as well as a longer list of synergies to derive than just about anyone.  By drawing a few others into the mix, Fidelity can perhaps extract a bit more from them than via private negotiations.
If you haven't already, please take our Reader Survey! Just 3 questions to help us better understand who is reading Telecom Ramblings so we can serve you better!
Categories:
Fiber Networks
·
Mergers and Acquisitions