In its quarterly report this morning, Zayo posted its usual complex mix of steady organic and inorganic growth numbers.  But the standout item by far was a big fiber-to-the-tower buildout project down in Texas.  Here are their numbers in some context:
$ in millions
Fiscal
Q3/14
Fiscal
Q4/14
Fiscal
Q1/15
Fiscal
Q2/15
Fiscal
Q3/15
 – Physical Infrastructure
125.0
135.9
149.6
152.7
164.3
 – Lit Services
151.7
153.8
156.1
157.4
163.0
 – Other Services
6.4
8.4
14.9
13.8
13.4
Total Revenue
278.0
296.7
320.6
323.9
340.7
Adjusted EBITDA
165.0
171.7
183.3
189.7
199.0
Adj. EBITDA Margin
 59.4%
55.9%
57.1%
58.6%
58.4%
Capex
90.9
94.9
115.3
129.5
130.1
Buildings on-net
14,490
15,027
16,151
16,712
17,479
Revenues came in ahead of analyst projections, with organic growth and the Latisys contribution more than offsetting some European currency headwinds.  The company added another 767 on-net buildings and towers to their network, building another 662 route miles of fiber along the way.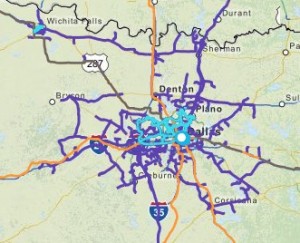 Zayo has projects going on all over the place, some they have talked publicly about like their longhaul build between Dallas and Phoenix, and some that add FTT depth in places they've already been busy in like along the Colorado Front Range.  But this new one in Dallas described in the Earnings Supplement is a really big one, with 2,000 new metro fiber miles planned hooking up more than 600 cell towers, with a capex budget of some $185M in planned over the next four years.  Of all the US major regions in the US, Texas has not been one of Zayo's favorite targets until now.  I've always figured they'd take care of that inorganically sooner or later by acquiring FiberLight or Alpheus, yet an organic move in Dallas makes plenty of sense too.
If you haven't already, please take our Reader Survey! Just 3 questions to help us better understand who is reading Telecom Ramblings so we can serve you better!
Categories:
Datacenter
·
Fiber Networks
·
Financials