This Industry Viewpoint was authored by Keao Caindec, Chief Commercial Officer, 365 Data Centers
As the demand for in-home bandwidth increases due to the availability of over the top (OTT) video, rich content, ever increasing file sizes, and the use of video over most social media platforms, cable and Internet providers are gearing up to significantly increase bandwidth speeds to their customers at the network edge. CableLabs' DOCSIS 3.1 standard promises to achieve this over existing hybrid fiber/coax (HFC) cables that make up cable provider networks. In January, Broadcom announced availability of "the world's first DOCSIS 3.1 cable modem system-on-a-chip."
Comcast Executive VP Tony Werner is bullish on what DOCSIS 3.1 will do for subscribers, saying, "By more effectively using our cable plant to grow our total throughput, we expect to offer our customers more than 1Gbps speeds in their homes in 2015 and beyond."
Supporting the new Gigabit era in data by improving the spectral efficiency of existing HFC networks, the DOCSIS 3.1 specification will enable anywhere from 10 to 40 times higher broadband access speeds. The technology promises 10Gbps downstream and 1Gbps upstream, in theory. In reality the average household using a new modem with integrated Wi-Fi may receive up to 2Gbps. This would be four times faster than the fastest fiber optic service offered by most cable companies today and 40 times faster than current "Extreme" coax-based services from Comcast.
The 3.1 standard was developed in record time as multi-system operators (MSOs) worried about the arrival of competitors such as Google Fiber and as triple play offerings from AT&T U-Verse or Verizon Fios drive expectations to have more bandwidth in the home. Last year, even before the new 3.1 products were available, Bright House Networks announced faster Internet speeds at no additional charge and promised they will go as high as 300Mbps in 2015, while it also began the creation of Florida's first fiber-based "Gigabit Communities."
As a result of this drive for MSOs to catchup, global DOCSIS 3.0 shipments jumped 114 percent in 2014 as shown in the accompanying graph. "The continued growth of DOCSIS channel shipments is a strong sign of MSOs' ongoing investment to ramp DOCSIS bandwidth and services like IP video," said Jeff Heynen, Principal analyst for broadband access and pay TV at Infonetics Research.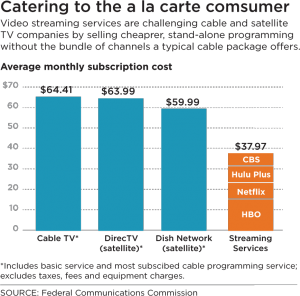 Faster cable modems and head-end technology will be a boon to bandwidth and content-hungry cable customers, enabling subscribers to take advantage of OTT video services such as Netflix, Hulu, YouTube and HBO GO to stream more content to the home—significantly increasing bandwidth consumption in the metro and at the network edge in local markets. Even better for consumers is the fact that the 3.1 upgrade involves a simple modem change that's low cost to them, or may even be included with their service. Once people get high speed bandwidth to the home, it will be cheaper to get the services and shows they want over Internet which could change the playing field for MSOs. After all, why pay for cable TV at $100 or more when you can just stream it over your existing Internet service for about $37 a month and get OTT video services?
MSOs, broadband and content providers will face greater pressure to figure out how to reach consumers more cost effectively. These trends, coupled with the current centralized content delivery and cloud architectures that transport this expanding traffic will result in increasing stress on the Internet's backbone as it tries to keep up with such rapid increases in edge access speeds. When multiplied by the millions of U.S. subscribers who will soon access the Internet via DOCSIS 3.1 modems, the WAN will be hard pressed to deliver rich content at these high speeds to the curb across the long haul.
The new speed will likely create more questions than it answers as backbone, edge and content providers will quickly have to figure out how to keep up with this sudden increase in speeds. What will happen when this gets rolled out everywhere? Where will the pressure points be? What will it mean for MSOs, carriers and ICPs?
This could be especially problematic as the industry rolls out multi-screen 4K video, more cable TV channels available over the Internet, real-time sports coverage online, streaming audio and cloud computing. Even pay TV stalwart Jeff Bewkes, the chairman and chief executive of HBO's parent Time Warner, softened his stance on OTT. HBO recently announced HBO Now and the availability of HBO content online for $14.99 per month.
For all the ongoing talk about caching content locally in more distributed network PoP architectures broadband operators, MSOs and CDNs still maintain relatively centralized content distribution models. Their content is primarily cached in just a handful of major cities. In the U.S., content providers have chosen traditional fiber convergence points such as New York, Ashburn, San Jose, Chicago, Atlanta, Miami and Los Angeles. While distributing content from major "peering hubs" may have made sense for distributing web content, it is not cost effective or efficient for distributing video at scale.
If current centralized network architectures are maintained, MSOs and ICPs will be forced to pay for long haul access to reach distant markets or pay for transit or long haul to customers themselves. Peering exchanges were not designed to handle more than few Gigs of traffic between two peers. What will content providers elect to pay for multiple 100Gbps pipes from the major peering cities to the major metro areas to reach their subscribers? It will be much more cost-effective to move caching and other equipment into more local, regionally distributed PoPs or data center facilities and simply pay for cross connects within those facilities.
The drive is now on to deliver high speed, rich content and services closer to users at the edge to maintain a positive subscriber experience and thereby reduce latency that may result in slow load times, video stalls, buffering of OTT video and ultimately lost subscribers. This needs to happen very quickly if MSOs are to keep their pay TV—or even if they just want to maintain their share of Internet—subscribers.
If you haven't already, please take our Reader Survey! Just 3 questions to help us better understand who is reading Telecom Ramblings so we can serve you better!
Categories:
Cable
·
Internet Traffic