Just a few years back, it would often be said that building new metro fiber made sense but the case for new intercity longhaul builds was not there. By now though, that is demonstrably no longer true. In its third new longhaul build anouncement in the last five months, Zayo says it is going to build a new route between Dallas and Phoenix.
Zayo is already building new 800 mile intercity fiber between Salt Lake City and Sacramento (announced in January 2015), as well as 1,000 route miles of fiber on the north-south route between Omaha and Dallas (announced in December 2014). The Dallas-Phoenix buildout will stretch some 1,200 route miles. A few thousand here, a few thousand there, and pretty soon you've got a new national longhaul dark fiber network. Not yet of course, but give them time.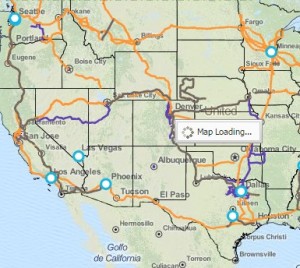 The new route is not yet on Zayo's interactive map, but you can see why they might be interested in building fiber on a route west out of Dallas. Their existing east/west Texas route is further to the south through San Antonio and Houston. That is of course the AboveNet backbone, built off fiber IRUs from the former WilTel.
The new route will give them needed diversity in the southwest, and will also give them a broader dark fiber option in the region beyond the metro.  All three of their longhaul fiber builds connect on both ends with existing routes on which they already sell dark fiber.  This latest one picks up from their San Diego-Phoenix route, and brings it back to Dallas where they already have fiber up to Denver and Salt Lake City and are building that route north to Kansas City and Omaha.  When all three are complete, they'll have a ring connecting LA to SF, Salt Lake City, Denver, Omaha, Kansas City, Dallas, Phoenix, and back to LA.  If I were to guess what's on the drawing board, it would be connections between that ring and the Chicago-New Orleans north/south dark fiber route they have just to the east to complete another loop.
Texas in particular is a market where Zayo has a lot of available territory in which it can still expand its reach and depth, and I can't shake the feeling that sooner or later it will happen inorganically. Both Fibertech and Alpheus seem like obvious targets, should their private equity backers be ready to make a move. Fibertech in particular seems ripe for a deal, and has been building out a vast footprint in West Texas.
If you haven't already, please take our Reader Survey! Just 3 questions to help us better understand who is reading Telecom Ramblings so we can serve you better!
Categories:
Fiber Networks