On EarthLink's Q4 earnings call this morning, the company talked pretty frankly about its intentions to sell off network assets to focus more tightly on the managed services side. They are looking at selling off the dark fiber, but not the more general CLEC/network business itself for now.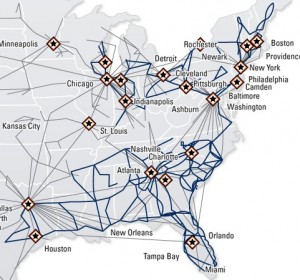 The rationale behind that is that a) carve-outs aren't easy, b) selling dark fiber has litle operational impact, and c) they think they can improve the CLEC/network business and get a better multiple later on.  Meanwhile, they can monetize the dark fiber quickly and use it to improve the balance sheet.
So where is this dark fiber? The two CLEC pieces of the business were ONE Communications in the northeast and Deltacom in the southeast. As I recall, ONE's network wasn't flush with dark fiber, but some pieces of Deltacom's were, particularly of the regional intercity variety. A bunch of the former Deltacom's metro fiber derived from Progress Telecom (nowadays Level 3) as opposed to original build etc.
So we're mainly looking at regional and longhaul routes in the southeast. EarthLink suggested that they had seen some preliminary interest from the market.  Who might want assets of this sort?  We've looked at this before, but the situation has evolved somewhat.
While EarthLink doesn't seem directly interested in the Windstream REIT route, that doesn't preclude Windstream as a potential buyer. The hybrid ILEC/CLEC could just buy the fiber and then sell it to its REIT as it is doing with the rest of its network. While Windstream has a fair amount of southeastern fiber, it looks to me as if Earthlink's inventory could be pretty complementary.
A very obvious candidate would be Zayo of course. Aside from their general voracious and omnivorous appetite for fiber assets, Zayo's current southeastern regional fiber depth mostly derives from the US Carrier deal and is strongest in Georgia but less dense elsewhere. The former Deltacom footprint could be an asset they would put to good use, especially in Florida.
Level 3, on the other hand, would seem to have less use for EarthLink's footprint simply because they've got a lot there already from previous deals. Adding it to their portfolio certainly wouldn't hurt, but I doubt they'd bid very high for it relative to others.
Of the other private equity-backed competitive fiber operators with a known appetite, I'd say Lightower would be the most likely. They'd never want the CLEC business, but buying an unencumbered dark fiber asset that would take them from their Virginian southern border all the way through Florida and Texas might really work. Such an opportunity might not come again.  And anything of interest in the Northeast and Midwest would fit in well enough.
The same argument could be made for Lumos Networks I suppose, but I think Lightower is the more likely.  PEG Bandwidth could be an interesting alternative as well though.
Two regional energy-utility-owned fiber operators could conceivably be interested also. FPL Fibernet bought its way into Texas not so long ago, and EarthLink's dark fiber would be an interesting followup. Southern Telecom is probably less aggressive in terms of M&A, but it could make sense and if their parent is willing it would be pocket change.
Should Comcast succeed in finishing the TW deal, they just might want to follow up the DukeNet purchase with a wider regional fiber footprint. Especially if they can get it with no extra CLEC baggage.  But I think the probability isn't very high on this one.
But the title of darkest horse would go perhaps to Crown Castle, whose purchase of 24/7 MidAtlantic last year could be the start of a wider appetite for regional fiber to hook up its towers.
If you haven't already, please take our Reader Survey! Just 3 questions to help us better understand who is reading Telecom Ramblings so we can serve you better!
Categories:
Fiber Networks
·
Mergers and Acquisitions
·
Metro fiber