The last two Fridays we had our annual M&A polls, checking which operators Telecom Ramblings readers think will be the consolidators or consolidatees in the year ahead.  Now let's take a quick look at those results and see what you had to say (and my own thoughts).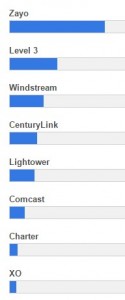 Readers picked Zayo as the clear leader of fiber consolidation in the sector, nearly doubling the vote count of its nearest competitor, Level 3. Zayo is indeed the obvious pick and one of mine, although now that they've already bought IdeaTek in December and now a big meal of colo at Latisys, I'm revising my thinking that they might not be as active as they might otherwise have been the rest of the year.
Level 3 seems likely to be busy with tw telecom though, so they weren't one of my picks. Third though is Windstream, whose REIT effort might prompt some interesting moves once it is complete, so they were also one of my picks. CenturyLink and Lightower rounded out the top 5. I'm not sure who CenturyLink would be buying although I guess Sprint(wireline) would be logical enough, but Lightower was also my third pick. Notably not making the top 5 were any cable MSOs, although Comcast and Charter were next in line.

As for the likely targets of consolidation in readers' eyes, there is much less in the way of consensus. XO led the pack of course, followed pretty closely by Sprint's wireline division. Nothing new there, and XO probably got fewer votes this year than they ever have in this annual poll. Tired of being wrong perhaps?  They weren't on my list this time, as it appears Icahn's willpower is impervious to the obvious need for an owner who knows the business.
Lightower, Fibertech, and Fiberlight rounded out the top 5, being three of the largest regional, independent morsels of metro fiber available for someone like Zayo (or each other) to buy.  As for me, I picked Sprint(wireline), Earthlink, and Lumos, just because it feels like the first two are ready for action and as a public company Lumos has less sticky owners than the other regional fiber networks near the top of the list. But frankly I agree with the lack of consensus. Plenty of potential consolidation targets are out there, but few really stand out to me this year.
If you haven't already, please take our Reader Survey! Just 3 questions to help us better understand who is reading Telecom Ramblings so we can serve you better!
Categories:
Fiber Networks
·
Mergers and Acquisitions
·
Metro fiber