In a blog post yesterday, Verizon fired the latest round in the public blame wars over why Netflix videos buffer on their network.  The case they made offered little new information, however, and of course placed the blame squarely upon Netflix.
The interconnection deal between the two companies is still being implemented, however it has not stopped the blame game.  Last month Netflix went so far as to have its service pop up a message to consumers citing Verizon's 'crowded' network for problems.  Verizon was decidedly not happy with this development, which exposed the one weakness they have as the last mile network owner — the contentious relationship that already exists between them and the consumer.
But Verizon's blog post covered only familiar territory to those familiar with the situation.  They argue that Netflix is using transit connections that can't handle the volume, that the traffic is asymmetric and therefore it is not their responsibility to update peering connections, and that if Netflix or the transit network would just pay for the right to connect to Verizon's network there would be no traffic problems at all.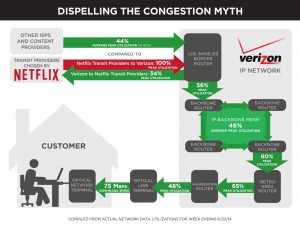 They provided this helpful graphic showing that everything works exactly the way it should except the connection to transit networks.  Of course, the only people disputing this are the side of the media that don't understand networks.  The problem has always been at the point of interconnection, and the real dispute remains over who pays who and why for the traffic that passes through it and the upgrades required to do it.
Verizon sells explicitly asymmetric bandwidth to consumers that it knows will download more than they upload, then complains that the traffic they get from the outside world is asymmetric and therefore not their problem.  Meanwhile, Netflix makes the case that it shouldn't pay anything at all for mere network infrastructure, and is busy trying even to cut the transit providers and CDNs themselves out of the loop entirely with its own content delivery infrastructure.
Neither is giving an inch yet, and none of it makes sense except to the spinmeisters.  But to me the real question is why it is taking so long to implement the direct connection between Verizon and Netflix that was announced months ago.  In a world where we're talking about on-demand bandwidth and SDN in the WAN, the idea that it will take the rest of 2014 for something we've known how to do since the 90s is just silly.  Hell, they fixed Obamacare's website issues faster, and that was the government.
If you haven't already, please take our Reader Survey! Just 3 questions to help us better understand who is reading Telecom Ramblings so we can serve you better!
Categories:
Internet Traffic
·
Video