Along with its Q1 results late yesterday, Lumos made two announcements in the Virginia markets it has been expanding within over the last two years.  The regional network operator saw a rise in churn from carrier TDM grooming, leading to a lowering of revenue and EBITDA guidance.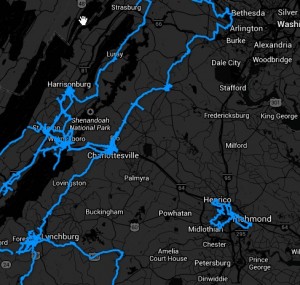 Between the central Virginia cities of Richmond and Charlottesville they will soon have some big bandwidth available. Sometime next month their new 53-mile, 288-strand route will be completed, bringing 100G DWDM and Carrier Ethernet capabilities online. The new fiber build will replace connectivity Lumos currently leases, and will soon be joined by the fruits a similar effort between Richmond and Ashburn.  You can see why such routes might be helpful by noting their absence from the piece of Lumos's network map to the left.
A bit further to the southwest, Lumos detailed an expanded relationship with Roanoke College. Through two fiber builds on the campus they have been providing both high speed Metro Ethernet and SIP trunking to the liberal arts college.  Lumos's fiber investments in Virginia have begun to take hold, with $4M in annual revenue now coming from the recently developed Richmond metro market.
But the growth from Lumos's investments in fiber both here and up in Pennsylvania of late still have had to deal with the churn from other parts of the business.  Thus, in Q1 they came up a bit short in revenue and EBITDA when hit by some carrier TDM grooming in their data business.  Guidance for both was lowered a bit from last quarter, which pushes the hopes for sustained overall revenue growth down the road a few quarters.   Operationally they are not backing off on their fiber and backoffice investment plans though.  Here are their numbers in some context:
$ in millions
Q1/13
Q2/13
Q3/13
Q4/13
Q1/14


(actual)

Guidance
 – Data
25.4
25.7
26.1
26.9
26.1
 – SMB/Residential
21.1
20.5
20.1
19.1
18.6
 – RLEC Access
6.1
6.2
5.5
5.0
5.3
Revenue
52.5
52.3
51.6
51.0
50.1
2014: ~200
Adjusted EBITDA
24.7
24.6
23.0
24.0
22.6
2014: 90
Earnings per share
0.30 
0.22
0.11
0.18
0.18
Adj. EBITDA Margin
47.0%
46.9%
44.6%
47.1%
45.1%
Capex
15.0
11.7
19.0
22.6
18.1
On-net Buildings
1235
1273
1303
 1344
1387
target now 20 data centers this year
On-net Cell Sites
405
465
540
608
633
825 end of 2014, 1500 eventually
Lumos's reportable segments shifted for this quarter to Data, SMB/Residential, and RLEC Access.
If you haven't already, please take our Reader Survey! Just 3 questions to help us better understand who is reading Telecom Ramblings so we can serve you better!
Categories:
Financials
·
Metro fiber