This Industry Viewpoint was authored by Stefan Bernbo, CEO and founder of Compuverde. 
A 2012 Cisco report estimated that global data center traffic would rise from 1.8 zettabytes (ZB) in 2011 to 6.6ZB in 2016. One explanation for the explosive growth in data is the "Internet of Things." The Internet of Things (IoT) describes the era where wireless, network-connected devices become ever more synchronized with our lives. Gartner predicts the IoT will include 26 billion units by 2020. Housing the information generated by the billions of devices demands a whole new approach to data storage and management.
Data centers are an integral part of today's data-driven economy, serving a critical role in facilitating everyday business transactions for all industries. The means of storage have shifted from on-site tape storage and hard-disk drives (HDDs) to off-site data centers housing petabytes of data. Usage of HDDs in data centers is reaching an inflexion point where solid-state drives (SSDs), also known as "flash" storage, are showing promise both in performance and cost. Enterprises requiring the fastest and most efficient mode of storage will soon be met with the proposition to invest in an all-flash data center.
Flash in the Near Future
When flash storage was first commercialized, it did not overtake spinning disks' spot as the server architecture of choice. Despite higher performance and energy efficiency gains, flash was still too costly. Consequently, the majority of data centers continued to deploy HDDs regardless of the performance benefits of SSDs.
Over the years, flash technology gradually dropped in price from roughly $40/GB to less than a dollar per gigabyte today. Subsequently, as the price dropped, flash's core benefits – latency and throughput speed – improved considerably. Flash is also far more energy-efficient compared to traditional hard-disk drives; some SSDs manage to use just one-sixteenth the energy of a comparable HDD. Despite the faster burnout rate of flash drives, recent improvements in the technology mean that flash storage implementation, even in high-volume environments such as data centers, can be a reality. Organizations will start transitioning from "spinning disk" to all-flash based data centers very soon, signaling the beginning of the age of all-flash data centers.
Rethinking the Data Center
Even today, industry players that rely on speed and reliability to maintain profit margins, such as telecommunication and Internet service providers, are changing their perception of flash storage. For them, the idea of a flash-driven data center is becoming less of an attractive possibility and more of a business necessity.
Despite the clear benefits offered by an all-flash data center, many industries are apprehensive about implementation due to its potential costs. For example, a file hosting service that delivers free web storage for consumers is likely focused on delivering large quantities of inexpensive storage rather than high performance. The current tradeoff is between price and capacity, but once flash finally catches up to the price point of spinning disks, there will no longer be a reason to avoid the switch. At that point, SSDs will replace HDDs as the primary storage method.
Software-Defined Storage in an All-Flash Environment
Software-defined storage is another trend on the rise, and while it may be premature to say the two go hand-in-hand, it will provide organizations with the flexibility required to implement an all-flash data center.
Software-defined storage migrates features typically found in the hardware layer to the software layer, reducing various redundancies built into the hardware layer. It is a simple fact of life: hardware will fail at some point regardless of design, and flash storage has an especially high rate of time-to-failure when compared to other methods. In a typical storage setup without RAID cards, disk failure will prompt an error message that affects the end-user's experience. This issue is often resolved via RAID cards, which can be costly. With a software-defined approach, problems of this nature can be remediated and rendered invisible to the user, enhancing its ease of use. Furthermore, because software-defined storage is hardware agnostic, it can operate on any hardware setup.
Data center administrators who see the value in software-defined storage are typically attracted to one or more of the following benefits:
Flexibility – Software-defined storage offers the ability to analyze business requirements and choose the precise components and software that satisfy a company's growth goals. While this method does require more technically trained staff, the flexibility presented by software-defined storage provides a simpler, higher-performing and cost-effective data center.
Cost efficiency – Because software-defined storage separates software from the hardware layer, administrators have can select less expensive commodity servers.  When paired with lightweight, effective software, the use of commodity servers can result in substantial cost savings.
Long-term solution – Network ecosystems, corporate concerns and budgets all fluctuate with respect to current market trends. Having a rigid storage environment, locked into infrastructure combinations determined by an external vendor, hinders the ability of the organization to respond quickly to market forces, much less anticipate them in a practical fashion. Rationalizing long-term investments in flash storage now can provide the future agility organizations need to stay relevant.
Implementing a software-defined approach to storage architectures enables organizations to use a single name space across all its storage nodes. Organizations are able to run applications in the storage nodes, thereby converting them into "compustorage" nodes. Consequently, the storage hardware itself doesn't need to be large or costly to maintain high speed and performance. Instead of constructing large, expensive installations, an organization can begin with a few commodity servers and scale linearly to retain optimal performance as the organization grows.
Additional benefits of an all-flash data center using software-defined storage include:
Considerable performance improvements due to the use of faster flash technology throughout the data center.
Decreased power consumption means that SSDs reduce running costs, generating far less heat than a spinning disk and requiring less energy for cooling.
Running increased number of applications on the same hardware, due to performance improvements.
SSDs deliver a smaller footprint in the data center. Since SSDs are much smaller than spinning disks, they require less space and less real estate to house.
Looking Forward
Technology is advancing at a breathtaking pace. The IoT and the attendant boom in data growth is stoking the fire under storage providers to offer more for less. The recent advent of flash as a viable means of storage for the masses is challenging traditional data center architectures. The day has finally come where SSDs are economically viable. Coupled with flash's unparalleled performance and low energy usage, it is likely that an all-flash data center will become the norm in the near future. To accelerate the adoption, the introduction of software-defined storage means that organizations can fully harness the benefits of an all-flash data center.
About the Author: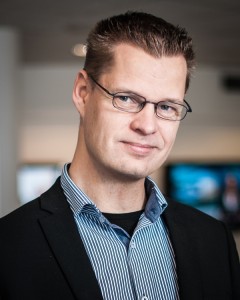 Stefan Bernbo is the founder and CEO of Compuverde. For 20 years, Stefan has designed and built numerous enterprise scale data storage solutions designed to be cost effective for storing huge data sets. From 2004 to 2010 Stefan worked within this field for Storegate, the wide-reaching Internet based storage solution for consumer and business markets, with the highest possible availability and scalability requirements. Previously, Stefan has worked with system and software architecture on several projects with Swedish giant Ericsson, the world-leading provider of telecommunications equipment and services to mobile and fixed network operators.
If you haven't already, please take our Reader Survey! Just 3 questions to help us better understand who is reading Telecom Ramblings so we can serve you better!
Categories:
Cloud Computing
·
Datacenter
·
Industry Viewpoint