On Monday, EarthLink reported some decent numbers for the first quarter of 2014, beating expectations on revenue and EBITDA. But the more interesting half of the story was what the company's new CEO, Joseph Eazor, has in store for the road ahead as detailed on their earnings CC. We knew he'd be making substantial changes, but now we have the beginnings of a roadmap.
Remember all those interesting cloud-based IT services Earthlink has been assembling? Well some of them aren't going to be around for long. EarthLink is going to be taking a hard look at each of them, refocusing on the ones that are related to networking and managed networking in particular, such as hosted VoIP, network analytics, disaster recovery, and security.
For the others, they'll be looking at strategic alternatives. They wouldn't give specifics on which of their products are no longer a fit, but they're surely talking about much of what is grouped as IT services. The helpdesk and related stuff, for example, is sure to be available for a reasonable price if they can find a buyer.   What they can't sell, they'll likely just manage for cash as it fades away.
That may not sound like much if you haven't followed the company, yet it's a major about-face from what they've been working so hard on for the past few years.  But the past few years haven't gone as well as planned either, which is why they have a new CEO and a new plan.  It won't be the first rethink of a cloud effort we see in the industry either.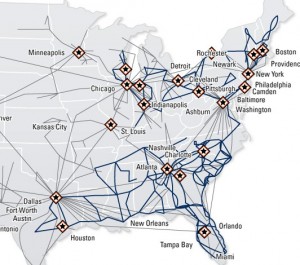 One question that was posed (by D.A. Davidson's Donna Jaegers of course) was whether the company might actually sell the fiber network itself and maybe lease back the capacity it needs. They didn't say yes, but they didn't say no either.  That could be an interesting concept…  I wonder who might want 28,000 route miles of under-utilized, primarily southeastern, regional fiber network.   Besides Zayo I mean…
Unmentioned in the call was the broader M&A opportunity the whole company might represent.  Given the price Cbeyond managed to get, I have to wonder if EarthLink might get some serious bidders looking for a bargain entry to a national customer base.
If you haven't already, please take our Reader Survey! Just 3 questions to help us better understand who is reading Telecom Ramblings so we can serve you better!
Categories:
CLEC
·
Cloud Computing
·
Financials
·
Mergers and Acquisitions