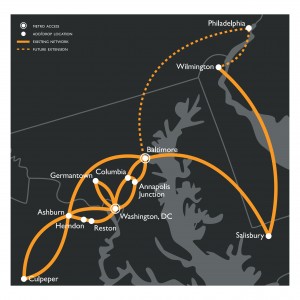 The Northern Virginia, Washington DC, and Maryland fiber market is one of the most dynamic in the world. And with more than 800 route miles of high-fiber-count cables crisscrossing the region and an expanding portfolio of products, 24/7 Mid-Atlantic Network is a rising, independent provider in a geography that is on everyone's radar. With us today to discuss the company's approach and plans for the future is Sean Baillie, who joined the company last summer and then took over as President this past November.  
TR: You joined 24/7 Mid-Atlantic in June of 2013. What have you been up to since then?
SB: 24/7 has always had a good asset in a high demand market but very few people knew much about it. The irony is the company has wonderful people and fiercely loyal customers. So our first priority was to make 24/7 more well known, tell our story to as many people as possible. We've been in meetings non-stop for 11 months and counting doing just that. Our unique value is that we are a small innovative company that operates with speed and does what we say we're going to do. Our customers and prospects view us as a breath of fresh air in a market that has a lot of competition but not much energy.
Outside of that we have made many advances including hiring a new sales team, launching Ethernet, DWDM and IP services, expanding our data center presence, creating flat rate pricing for fiber builds, launching new sales channels and creating meticulous records of our fiber plant.
But by far the most important development is we have established ourselves as an attractive network partner in our markets that creates value for our customers.
TR: How has 24/7 MidAtlantic's approach changed since the GRI Fund investment and relaunch?
SB: Prior to GRI Fund buying the business 24/7 had a lot of potential but wasn't growing as rapidly as it could for various reasons. GRI brought an energetic and supportive attitude along with a willingness to invest in the business, all of which were exactly what the company needed at the time and will continue to need in order to grow.
TR: What projects is 24/7 working on at the moment?
SB: At the moment we have install projects ongoing across all of our products for customers in the federal, healthcare, system integrator, wireless and enterprise verticals. Looking ahead I anticipate us being more heavily involved in fiber to the tower, small cell, additional data center expansion (both our own and putting network into others in our footprint), helping carriers convert middle mile transport from TDM to Ethernet and delivering complex custom networks to the Federal, Healthcare and Enterprise markets.
TR: Which products are seeing the most demand for you right now?
SB: What little people knew about 24/7 prior to last year focused on dark fiber and telco colocation. Since we have energized our sales and marketing efforts we are seeing massively increased demand for our Ethernet, DWDM, Fiber and Colocation products.
TR: So far you have focused mainly on wholesale, do you have any plans to take on the enterprise and/or government markets?
SB: Absolutely. We launched our Enterprise and Agent channels in January and are seeing excellent activity from those efforts. We will be expanding our Enterprise team in the near future as well to meet the demand we are seeing. We have some history in the government space and have greatly expanded our efforts there as well, also with encouraging results. We recently achieved Small Business status with the federal government which is a big advantage for us. We have also been certified to participate in eRate and joined Internet2 which are both opening a lot of doors for us. The Enterprise and Government markets are great opportunities for 24/7.
TR: How important is wireless backhaul to your current revenues and growth plans? Is it difficult for a non-national provider to get the attention of the large wireless carriers?
SB: Some of our largest clients are wireless carriers but more on the MSC side versus the tower side historically. This is a good position to be in since we have the Z end of tower and small cell covered. We are actively involved in tower and small cell projects so I anticipate additional revenues from those efforts as we move forward.
The wireless carriers do give us plenty of attention because we provide significant value. We know our markets extremely well, we deliver timely/accurate information and we do what we say we're going to do. In my experience, regardless of size, any customer or prospect reacts well to being treated well and has time for a partner that does just that.
TR: A few years ago, 24/7 built a regional fiber route out onto the Delmarva Peninsula. What brought you out there and are you looking at other unique, regional opportunities like this?
SB: That route was purpose built for a specific customer but has turned out to be a highly sought after asset once we explained to customers and prospects that it is a high count diverse system. We are working with wireless carriers, data centers, rural network providers and military customers who all have a high degree of interest in that path.
We are always looking for opportunities to develop unique assets whether it be customer driven, joint builds or swaps that produce a unique service.
TR: Has the M&A environment shifted over the last year or two? Are you seeing more or less activity?
SB: The M&A environment is very healthy as it has been for a few years now and I expect that to continue. Other than that observation I'm not paying much attention to it as I'm putting all my time into making sure our customers are getting value out of working with the great team at 24/7.
TR: Thank you for talking with Telecom Ramblings!
If you haven't already, please take our Reader Survey! Just 3 questions to help us better understand who is reading Telecom Ramblings so we can serve you better!
Categories:
Industry Spotlight
·
Metro fiber