We don't spend as much time on the cable MSOs here on Telecom Ramblings as on other segments, but yesterday's news was big enough to get my attention. It turned out that there was actual fire underneath all that smoke regarding bids for TW Cable. Indeed, Charter has a newly public bid on the table, and TW Cable doesn't think much of it.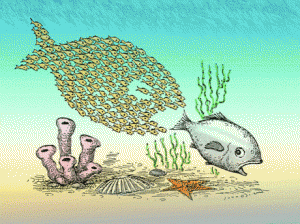 Charter has made a $132.5 per share bid for TW Cable, which would make the overall price tag something like $62B including net debt. TW Cable is supposedly looking for something north of $150/share, and Charter is now taking their offer to shareholders at least in the court of public opinion.  The ever-present cable baron John Malone has a big stake in Charter, and is said to be pushing the plans forward despite obvious reluctance from TW Cable, not to mention Charter's smaller size.
Just what happens next is unclear, but the most interesting possibility would be for Comcast to get involved somehow. Regulators would probably stop them from buying TW Cable outright, but Charter might theoretically be able to make a higher bid if it could sell off pieces to Comcast. However, regulators would have a lot to say about some of those possibilities.  I rather doubt we will see things descend into a proxy fight, but who knows…
One thing that strikes me here though is the idea that Charter will somehow 'challenge' Comcast with this deal. Cable companies don't really compete with each other except for bragging rights on size in the media. A cable franchise is more the arch enemy of the local telcos than of its geographical cable franchise neighbors for the most part, right? The driving force for consolidation amongst cable MSOs isn't so much about reducing the field of competitors as it is about obtaining better leverage with content providers.  Ah well…
Of course, TW Cable just recently bought its way into the regional and metro fiber business in North Carolina, taking it beyond its franchise territory in a big way. Charter has a substantial enterprise presence with metro fiber of course, but they haven't taken that type of step yet.  Since regulators eased the path for cable/CLEC M&A a while back, we've started to see more crossover between the two but the process has been slower than many may have thought.
If you haven't already, please take our Reader Survey! Just 3 questions to help us better understand who is reading Telecom Ramblings so we can serve you better!
Categories:
Cable
·
Mergers and Acquisitions