Last week Canadian regulators rejected the proposed purchase of Allstream by Accelero, a vehicle of the Egyptian tycoon Naguib Sawiris on national security grounds. When Verizon looked into entering the market there, they were faced with immediate and vocal objections before backing off after the Vodafone deal. So despite the supposed relaxation of foreign ownership requirements in the Great White North last year, the question now is whether they ever meant it, or perhaps whether they still do?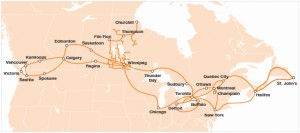 The reasons given for the veto of the Allstream deal were quite vague and offers to address the concerns were apparently rejected out of hand. The abrupt end to the deal didn't go down well with Sawiris according to thetelecomblog.com today.  I don't blame him, the clear subtext here is that some foreign owners are simply too foreign for Canada's comfort.
If an Egypt connection is too spicy for the Canadian government, what about Singapore, or Japan, or India? Without telling why Sawiris is persona non grata, Canadian regulators may find it difficult to justify letting other foreign buyers buy what he isn't allowed to.
The party that has to be the most befuddled here is MTS, which thought it had found a way to divest the business and move on with other things. Do they try to sell it now to a more limited pool of buyers, each of which has to wonder whether they're a security risk too?  Or do they make the necessary investments in the business they obviously preferred not to make in the first place?
It's probably just political ass-covering by folks who see a risk in approving anything with a hint of a Middle East connection in today's world. But on the other hand, perhaps with a little help from its home grown operators Canada has just gotten cold feet about the whole idea of foreigners owning pieces of their network infrastructure.
If you haven't already, please take our Reader Survey! Just 3 questions to help us better understand who is reading Telecom Ramblings so we can serve you better!
Categories:
Fiber Networks
·
Government Regulations
·
Mergers and Acquisitions