Hurricane Sandy did more than just tear up the shoreline and all the infrastructure on it, lately it has become clear that it also stripped the fig leaves off of a few illusions we have about that infrastructure. And nowhere has that been more painful than with Verizon's plans out on Fire Island, one of the largest barriers island off the shore of New York's Long Island.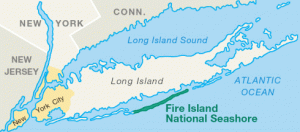 Verizon doesn't want to rebuild the copper infrastructure that Sandy destroyed. No big surprise there of course, but they also don't want to build fiber to replace it. Instead they've been pushing Voice Link, a wireless replacement with limited battery backup, no support for things like fax and home alarm systems, and an extra fee for wireless data service that may do the job but won't ever be FIOS.
Fire Island's daily population is generally transient and wireless heavy already, and well off of course. But the locals are becoming increasingly pissed off at Verizon for what they see as dropping the ball, and at the FCC for letting them do it.   The fact that building long term infrastructure on what is a basically unstable sand structure is a bad idea doesn't change the fact that it is their home.
The whole concept of universal service has always been a political kludge, and that Verizon would like economics to determine where they build infrastructure isn't exactly a shocker. We already have a system of tiered connectivity determined by economics, with some places getting a gigabit to the home while so many others still download pages at a few hundred kbps.  They made copper go everywhere by fiat, but with fiber they aren't and so it won't.
But the idea that in order to go forward some must go backward isn't going over well. Wireless service has come so far, we sometimes forget that it still doesn't do everything copper does. And maybe it never will, despite the fact that many of us don't care about those few other things — and in fact have dropped copper service entirely without noticing they were gone. But someone always will care about them, and Verizon and its ILEC counterparts got their monopoly by promising such things.
If we want a world where incumbents are less powerful and competition helps drive us all forward, at what point do they lose that obligation to a social contract of universal service? That's the question out on Fire Island, and what happens out there on that strip of sand will surely be repeated elsewhere that Verizon and its siblings don't want to run fiber to. Because the copper will go away eventually, one way or another.
What I'd say is that places like Fire Island need to rethink their infrastructure from the ground up.  Wireless may not yet be doing everything they want it too, but it's pretty obvious to me that in the long term it is the solution for such a vulnerable piece of real estate.  And it's close to being able to take over for copper in full, finding creative ways to close the gaps would be the easier path for everyone.
If you haven't already, please take our Reader Survey! Just 3 questions to help us better understand who is reading Telecom Ramblings so we can serve you better!
Categories:
Government Regulations
·
ILECs, PTTs