Speculation on who will step up and buy tw telecom has been spreading, with the latest being a Bloomberg article quoting various analysts bullish about the potential of a deal.  The candidates cast in the role of buyer are TW Cable, Comcast, and CenturyLink, and I agree they are the most likely if one accepts the hypothesis that tw telecom is preparing to sell. But I'm going to go out on a contrarian limb and say that not only will they not sell, this time they're going to buy.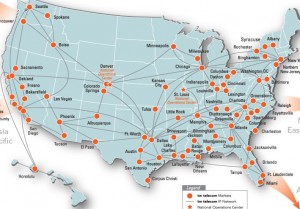 The case for buying tw telecom falters on the question of valuation and the premium to be paid. In order to buy the company, a suitor has to either have a huge pile of synergies at hand or believe they can operate the assets in a superior way. And in order to pay a substantial premium to tw telecom's already leading valuation, one probably needs both.  Wanting to own the assets and having the resources to overpay isn't enough to make the case.
But unlike many of the metro fiber consolidation targets out there, tw telecom is neither in need of more capital or a new business plan. They're at the top of their game relative to the assets they have in the ground. Those assets are powerful, but they aren't necessarily the most extensive or the newest or the most strategically placed.  The magic of Larissa Herda & her team is that they make real money for their shareholders off those assets nonetheless, growing steadily all the while despite economic storms, regulatory shifts, and the inevitable product cycle from cutting edge to legacy.
That's why I believe that the growing talk of finding a suitor will inevitably point in the other direction and pressure the company to do more with the operational capabilities it has demonstrated. Rather than find a suitor who knows less about making money off this type of fiber than they do and convince them to pay a premium, the conservative management team that leads tw telecom must inevitably see the other side of the coin. A strongly valued, well operated business that has proven that it knows what to do with fiber can make much more money if it has more of that fiber.
Yes that means fixing someone else's nightmare sometimes, as one industry executive described M&A to me last year. And yes there's risk involved, but when isn't there? And it's not true that tw telecom has been completely absent from the consolidation of the past three or four years. They've been there at many of the auctions, including the one for AboveNet.  They just weren't ready to bid high enough.  It has been argued that the current management team is not fitted to an inorganic plan, but I would argue that they may be less likely to bid but they'd be more likely to integrate purchased assets thoroughly and correctly.
The recent attention means that right now tw telecom's stock price is at levels not seen since 2001, which could be used as currency.  Along with still very favorable debt markets and the benefits of the recent balance sheet refinancing they did, they're in a position to make a big move should the opportunity arise. A better position, I think, than their supposed suitors are to buy them.
If you haven't already, please take our Reader Survey! Just 3 questions to help us better understand who is reading Telecom Ramblings so we can serve you better!
Categories:
Mergers and Acquisitions
·
Metro fiber