Where there were two deep, independent, northeastern fiber footprints, there is now just the one. Lightower Fiber Networks and Sidera Networks announced the completion of their merger this morning, creating a northeastern, pure-play, fiber juggernaut that just might be hungry for further consolidation.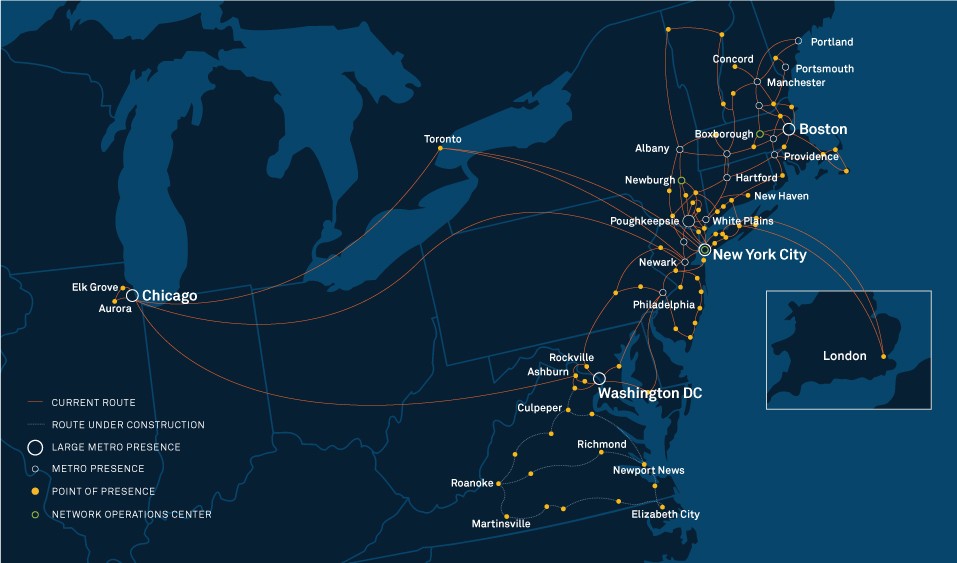 The combined company, which will keep the Lightower name and be led by CEO Rob Shanahan, will have a fiber network stretching for 20,000 route miles and reaching more than 7,500 on-net locations. Almost all of that fiber is concentrated within the Boston-DC corridor plus the Chicago metro area. Lightower will also inherit Sidera's planned regional Virginia network, expanding down the Atlantic seaboard.
Sidera's owners ABRY will join Berkshire Partners and Pamlico Capital as Lightower's main shareholders. With the private equity groups behind the two companies now on the same page, it seems very logical to me that they will look to further M&A opportunities of the same type. Given the independent fiber assets out there, there are a few ways they could go just by working within the private-equity-owned, pure-play fiber world.
They could go after Tech Valley up in northern NY state and New England, for instance, teaming up with Riverside. However, going after DukeNet and/or FiberLight to head deeper into the Southeast seems like the more likely direction to look.
There are fewer obvious fiber-heavy targets now in between their east coast assets and their Chicago presence, but if they find one available they'll probably be very interested in filling in that gap.  Merging with Fibertech, for instance, wouldn't hook everything up but might give them both greater depth on the east coast while adding metro in Pittsburgh, Columbus, and Indianapolis.
Going after Lumos Networks would be an interesting move, moving deep into the adjacent state of West Virginia and surroundings.  While it's not a pure fiber asset, it's public and might give Lightower a quick path to a public listing in some sort of reverse merger.  Any other ideas out there?
On the other hand, they'll have some integration work ahead of them.  Both Lightower and Sidera had consolidated multiple fiber assets in the northeast over the prior few years, so the process will not be unfamiliar to them.  There will certainly be synergies to be had, and some layoffs down the pike.  But both companies were pretty lean, so hopefully the pain won't cut too deep.
If you haven't already, please take our Reader Survey! Just 3 questions to help us better understand who is reading Telecom Ramblings so we can serve you better!
Categories:
Mergers and Acquisitions
·
Metro fiber