Several next-generation fiber operators have made the transition to positive earnings per share over the past few years (AboveNet, tw telecom, and Cogent), but none had further to go to achieve it than Level 3 Communications (NYSE:LVLT, news, filings).  But this year the numbers say that at long last it is likely Level 3's turn to definitively end its long run of red ink.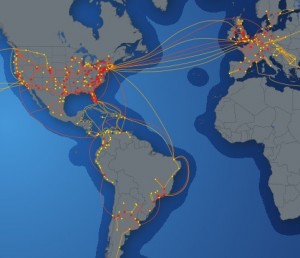 Last February I made the point that even a miss would win for Level 3, and while 2012 wasn't its breakout year it was plenty good enough for the shift in fortunes I was talking about. Although there are still many moving parts, my own modeling efforts predict that top line revenues will grow to $6.5-6.6B for 2013, with EBITDA growth of greater than 20%, free cash flow of greater than $200M, and of course earnings per share of a quarter to a half dollar with an appreciable quarterly ramp. Such numbers don't require heroic assumptions, merely a relatively passive uptick in organic growth and continued integration progress.
They've spent the year steadily integrating the Global Crossing business, while the question of when meaningful organic growth will start to kick in has dominated the attention of impatient investors. In December reliable sources tell me they began to accelerate the long-delayed RIF activity associated with consolidating facilities and NOCs and such, with Southfield MI feeling some pain. There will be more of that, but it seems clear that the heavy lifting is done or soon will be, and they have probably finished (or nearly so) achieving the first 2/3 of the $300M synergies by the end of last quarter. Yet it's important to note that the $300M was just a preliminary, conveniently round numerical target. There are more savings available, and while the rate they are achieved will surely decelerate it will be meaningful for many quarters to come whether they break it out or not.
But the most important change this year for Level 3 will simply be the flexibility they gain by not having a debt load that is so outsized compared to their operations as to distort their decisions. When you're making a profit despite the debt, which they should start doing by summertime, you simply have more options to generate the growth that everyone is expecting. And only growth can turn those incremental margins they have been pointing to for a decade into real money.
A more reasonable balance between their balance sheet and operations will also have the effect of making M&A less urgent and hence more opportunistic. They no longer need to chase scale to survive their debt, which is why I think they'll be looking at more strategic purchases like Colt than for more US synergies. While they're surely less hungry, they will have the opportunity to raise money at cheaper rates.
Whether or not the company's Q4 will be big enough to make the lower rung of their guidance of 20-25% EBITDA growth for 2012 is of lesser importance. I think it will be very close, a 50/50 shot at best that depends on seeing the US enterprise and wholesale businesses pick up the pace. But whether they're a few million short or ahead of that target is rather less of a big deal than the fact that they may finally be ready to banish the negative FCF bogeyman and stand eye to eye with their debt.
The company's stock price has risen of late, but it's important to note that they still trade at less than 7.5 times projected 2013 EBITDA levels – a substantial discount to historical levels and to the prices paid for most of the fiber businesses bought in the past few years.
If you haven't already, please take our Reader Survey! Just 3 questions to help us better understand who is reading Telecom Ramblings so we can serve you better!
Categories:
Fiber Networks
·
Financials
·
Internet Backbones