Last week's annual reader poll examining which network operators are likely to get bought in 2013 was a lot less definitive than the its companion ranking the likely buyers the prior week. Just one company took more than 10% of votes, and there was a photo-finish for second with a large pack close behind them. Interestingly, only one of my own picks made the top 5.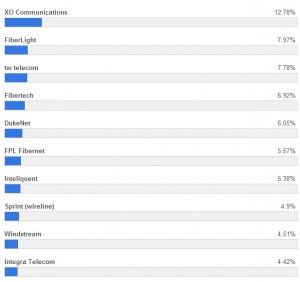 And of course it was XO that Ramblings' readers picked again as most likely to get bought for the third year running, albeit with the smallest margin so far. Since each voter had three picks, that means about a third of readers had the company on their list.  The possibility is certainly still quite real, but I didn't pick XO this year because I think perhaps they're more likely to have another rebuilding year first.
Fiberlight edged out tw telecom for second, both of which having been the focus of unresolved rumors last year. I still don't think tw get sold, but FiberLight still seems like a Zayo target (yes, including the big Texas buildout etc) and they also made my list.
Then it was further east coast fiber consolidation remaining on the table with Fibertech, DukeNet, and FPL FiberNet getting some attention, which does seem quite reasonable. Below those were Inteliquent and Sprint's wireline division, which had my other two votes, while Windstream and Integra Telecom rounded out the top 10.
But what strikes me here is how different this was from the consolidators poll, in which the trio of Zayo, Level 3, and CenturyLink had a pretty clear consensus.  The lack of such clarity here says that the industry is sure who is going to be jumping but has little idea exactly where each will be landing.
If you haven't already, please take our Reader Survey! Just 3 questions to help us better understand who is reading Telecom Ramblings so we can serve you better!
Categories:
Fiber Networks
·
Mergers and Acquisitions