While Level 3 Communications (NYSE:LVLT, news, filings) was mentioned by some as a suitor for TW Telecom (NASDAQ:TWTC, news, filings) recently, yesterday a different rumor emerged in another part of the world that may have more teeth. No not in Europe or South America, actually, which is where most of us have been looking. Commsday says that the global network operator is rumored to be contending to purchaseAustralia's NextGen Networks from the giant contractor Leightons and add a fourth continent to its terrestrial network coverage.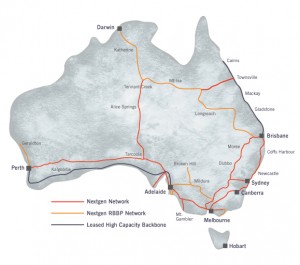 This isn't the first time an Australian fiber asset has been available, but it's the first one that looks like a perfect fit for Level 3. NextGen has 19,000km of intercity fiber/conduit (built in 2002-3), metro rings in the major cities (from the acquisition of Silk in 2008), and data centers in each (if Leighton's MetroNode assets are also in the mix).  It has little legacy baggage and long term potential in the right hands, and it looks a lot like an early version of what Level 3 has in South America and Europe.
With Australia's NBN initiative now moving steadily along, the regulatory situation in Australia looks much more stable and favorable to outside ownership than in the past.  Level 3 has a half dozen nodes in the APAC region that it inherited from Global Crossing, but it has not owned real infrastructure there since selling off its Pacific cable systems to Reach as the bubble burst.
Since then, it has become clear that it is the terrestrial infrastructure that matters, you can't survive economically with just subsea a few PoPs.  Thus Level 3 is not likely to return to APAC unless it is somewhere it can own what it likes to operate, and it's not easy to get a foot in the door in Asia.  But Australia might work, and looks like an asset that might fit the bill.
Of course others are probably more likely to win the auction if they want it badly enough, as local network operators like iiNet, TPG, and even Pipe have more synergies available to them.  And we (or at least I) don't know the underlying financials, so it's very hard to tell whether such a purchase would fit within Level 3's criteria right now, i.e. that it be accretive to cash flow and not raise their debt/ebitda ratio, or even what it would cost.
A few data points from recent Australian network M&A might help put things in perspective.  Earlier this year M2 bought Primus Australia for $200M.  And last year, iiNet bought TransACT for $60M and Internode for A$105M.  None of those are really at the same level of infrastructure as NextGen, but it's still reasonably enlightening.
If you haven't already, please take our Reader Survey! Just 3 questions to help us better understand who is reading Telecom Ramblings so we can serve you better!
Categories:
Internet Backbones
·
Mergers and Acquisitions