Satellite bandwidth has always been a bit of a separate subject from terrestrial bandwidth. But today's launch by Laser Light is looking to change that by taking laser connectivity into Medium Earth Orbit in a big way, while interconnecting with our planet's terrestrial and submarine fiber networks.
Medium-Earth Orbit is where GPS satellites orbit, I believe.  In this case, Laser Light is planning a 12 satellite system up at 10,500km above the Earth, hooked together to the tune of 4Tbps. Connections to the surface would be more like 200Gbps. And they'll be going it all without using that precious RF spectrum everyone's been squabbling over. They'll be using free space optical laser technology from Raytheon instead, basically fiberoptics without the fiber – travelling through near-vacuum in a straight line.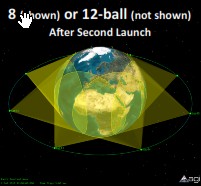 Of course, with the latency associated with satellite connectivity this sort of thing can never replace fiberoptics. But it could be an interesting way to expand the scope of big bandwidth connectivity, augmenting what we can do now in meaningful ways. The question is the economics, and for satellite stuff this is always rather heavily weighted toward huge startup costs that require lots of assumptions about a very rapidly changing industry.
It will be a while though before we really find out though.  The company may have launched, but the satellites won't for a while yet.  They're looking at a Q1 2017 kickoff date.  By then, who knows what the rest of the industry will look like.
If you haven't already, please take our Reader Survey! Just 3 questions to help us better understand who is reading Telecom Ramblings so we can serve you better!
Categories:
Internet Backbones
·
satellite