A few weeks shy of the first anniversary of closing of Level 3's purchase of Global Crossing, the latter's former CEO has resurfaced in a somewhat unexpected direction. John Legere has been named Chief Executive Officer at T-Mobile USA, taking over for interim CEO Jim Alling.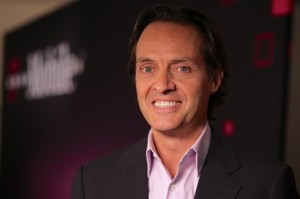 Legere took over Global Crossing just as it entered BK back in the bubble years, and spent the next decade helping to rebuild what many thought couldn't be (or shouldn't be, depending on who you talk to) rebuilt.  That determination and turnaround experience probably what Deutsche Telekom is looking for here, as T-Mobile USA may not be in BK but it is generally thought to be in a difficult spot: too small and spectrum-poor to stand a chance against Verizon Wireless and AT&T.
AT&T's failed attempt to purchase the T-Mobile USA left the company with something of a 'lost year' competitively. They now must figure out how to make up the ground with LTE and start winning subscribers again.  Everyone has a different remedy to suggest, from merging with Sprint to building out themselves to partnering up with Clearwire or DISH or something.  I doubt there is a magic bullet, but I also suspect that people make too much of the gotta-be-the-biggest-or-die thing.
Can John Legere find a way to restore T-Mobile USA's wireless mojo? Who knows, but it will surely be interesting to watch.
If you haven't already, please take our Reader Survey! Just 3 questions to help us better understand who is reading Telecom Ramblings so we can serve you better!
Categories:
Wireless