Today the wireless backhaul specialist ftwr finally surrendered to the inevitable and announced that it has filed voluntary petitions for Chapter 11 bankruptcy in North Texas. Under the proposed reorganization, the $176M in long term debt would be eliminated and the creditors would then take over the company – the usual sort of thing.  This follows a restructuring just over two years ago in which they cut debt in half, which obviously didn't do the trick.
FiberTower has been looking at strategic options since last November when they skipped an interest payment and started negotiating with debt holders. The company's assets were out there for sale, but apparently any offers generated did not rise to a high enough threshold. That doesn't mean that a buyer won't make a move now that the company has filed for BK, as it may offer additional opportunities for reorganization.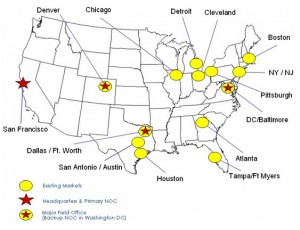 FiberTower took its hybrid fiber/microwave approach to the mobile backhaul space too early, and just never managed to generate the revenues per tower that it needed to justify its buildout costs. Also, by focusing mainly on towers they were unable to really benefit from the scale that might have come from other metro fiber targets such as mid-sized enterprises for whom the economics have gotten better and better.  While a few are now starting to make headway on it, in general the tower backhaul business still seems difficult as a standalone model.
That's why I think that FiberTower's future may still be to become the wireless backhaul division of a company with an existing metro fiber business, or add depth to an existing FTTT player like Zayo.   But it might work in pieces too – FiberLight and either Sidera or Fibertech could probably split it down the middle if they felt the urge, for instance.
But for now the order of the day will be to continue operating through the reorganization process with annual revenues in the $70M range and perhaps $4-5M in adjusted EBITDA.
If you haven't already, please take our Reader Survey! Just 3 questions to help us better understand who is reading Telecom Ramblings so we can serve you better!
Categories:
Financials
·
Wireless