Earlier this month, the Sea-Me-We-4 cable was cut about 60km from Singapore, and while such things happen regularly to submarine cables this one exposed the region's over-dependence on a few assets. Renesys has a nice piece out describing the unexpectedly large impact the break is having on providers across the region, with Bangladesh getting hit the worst and SingTel looking surprisingly vulnerable.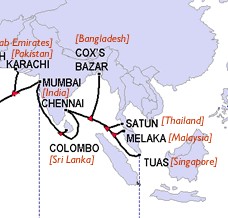 With all the cable building around the world lately, you'd think a single cable break wouldn't cause so much trouble. But in the end I think that the problem is not with SMW4 or submarine cables in general, but rather the near total lack of *terrestrial* cables that creates the vulnerability.
In Europe and North America, the cable landing stations in various different countries are interconnected connected by much larger pipes that crisscross the land and of course international borders. In most of Asia the vast majority of inter-country bits go under the water because there is no other choice. You can't get large quantities of bits from Bangladesh to the landing stations in India or Thailand by land.  I realize there are geopolitical and historical reasons why this is the case, but from an engineering point of view it's just a bad design with obvious structural vulnerabilities.
As the region's bandwidth appetite is growing quickly to match that of the developed world, surely a better terrestrial fiber infrastructure will have to accompany it?
A few thousand miles to the east, they are apparently starting to do just that. China Telecom and Thailand's TOT are joining forces to build two new terrestrial cables. The first will link Thailand to China through Laos and then on to Russia, while the second will head east through Cambodia and Vietnam. The idea is to reduce the strain on the country's subsea cable infrastructure.
And there are other projects elsewhere where terrestrial capacity is starting to help carry its share of the load, such as the new EPEG system and the various trans-Siberian connections.  As political stability in Southeast and South Asia improves, perhaps the telecommunications business can start to move on-shore bit by bit so that the overall system becomes more robust.
If you haven't already, please take our Reader Survey! Just 3 questions to help us better understand who is reading Telecom Ramblings so we can serve you better!
Categories:
Fiber Networks
·
Undersea cables