Zayo Group (news, filings) is taking on the low latency challenge west of the Mississippi, building on the assets and services it acquired in the 360networks deal to bring Chicago closer to Seattle. They are deploying a newly optimized route, which cuts 100 miles off the journey and 5-15% off of the latency available elsewhere.  The new express route will have 100G natively deployed with only four add/drop points.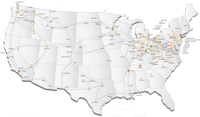 What's more, Zayo says it is considering offering a dark fiber service on this route, even though they would have to overbuild some parts of it. I'm curious just where it lies geographically, and whether it takes advantage of the former 360networks northern tier route.  That fiber derives from the Touch America build but uses dark fiber on Sprint's network in part, or so I recall. If that's the case, then Zayo is effectively considering building longhaul fiber across North Dakota and perhaps within Wisconsin- since they have their own assets in Minnesota and Montana.  They plan to decide later this year, with potential construction considered for early 2013.
Latency between Chicago and Seattle wasn't one of the early cases that drew so much interest from the high speed trading community.  However, as the need for optimized latency has evolved beyond that highly specialized vertical, it's obviously a critical piece of the puzzle.  The Pacific Northwest coast is where the lowest latency routes to Asia land, and features several very large concentrations data centers both in Seattle and in the surrounding region.  Zayo's regional fiber opportunity there is only enhanced by improving its connectivity options to Chicago.
It's not Zayo's first look at the low latency business of course, they put forth a NYC/Chicago low latency entry a couple years back that was assembled out of the assets of several of its earlier acquisitions.  But for the most part, Zayo didn't have assets in the right places for this segment of the market.  What today's Seattle/Chicago upgrade does is signal their further evolution, as the 360networks fiber is just the beginning.
Soon they will add AboveNet's assets to their own, giving them all that Tier 1 metro fiber that AboveNet has used to serve the low latency market already – especially in the financial vertical in the New York and London metro markets.  AboveNet's intercity assets were more limited of course, but in combination with Zayo's footprint they will be able to challenge for the low latency crown on many routes nationally.
If you haven't already, please take our Reader Survey! Just 3 questions to help us better understand who is reading Telecom Ramblings so we can serve you better!
Categories:
Fiber Networks
·
Low Latency
·
Metro fiber