What to make of the scary statistics put out by Infonetics Research last week? According to the outfit's Optical Network Hardware report, spending on optical gear dropped 23% globally over the fourth quarter, mainly outside North America.  Meanwhile, year over year European spending on WDM fell even faster than on legacy SDH. Yikes, so that's why Cisco's John Chambers was sounding the poor visibility alarm.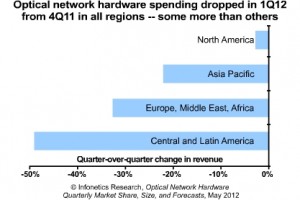 Infonetic's chart (left) suggests quite a dramatic swing outside North America, although this kind of spending is always volatile and we know that there is an ongoing shift in capex toward wireless deployments.  But the big question mark goes to Europe.  Have macroeconomic forces started to cause European carriers to sharply curtail spending? And if so,will it be contagiouw?
We know traffic growth isn't taking a breather, so we must assume that folks are running their networks a bit hotter.  I haven't gotten the impression that there is a lot of wiggle room available, so perhaps it's just a short term shift.  Another thing to wonder about is the imminent arrival of truly commercially viable 100G.  While certainly part of this is macro-level uncertainty, could we perhaps in part be seeing a bit of an undertow before the real wave of 100G upgrades?
On the other hand, these sort of charts tend to capture the ILEC/PTT side of things since those are the bulk of the economy.  What about for competitive carriers?  I don't have a comparable look at Europe, but here's my newly updated look at capex as a percentage of revenue for US-based competitive network operators – none of whom operate a consumer wireless business:
Relative Capex Trends for Competitive Network Operators
It's a bit messy, but the trend for Q1/12 versus Q4/11 is basically flat – no change to current spending levels that I can see.  You know, I wonder what it would look like if one compared optical spending globally between those carriers with a wireless business and those without.
If you haven't already, please take our Reader Survey! Just 3 questions to help us better understand who is reading Telecom Ramblings so we can serve you better!
Categories:
Financials
·
Telecom Equipment