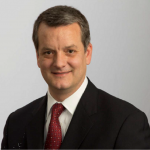 With its position on the Northeastern corridor plus Chicago, Sidera Networks' regional and metro fiber assets give it a premier position in the sector, especially when it comes to the financial services vertical. With us today to talk about Sidera's current activities and plans for the future is their new President, Clint Heiden. Clint previously drove the fiber businesses of PAETEC and Intellifiber, and joined Sidera back in December.
TR: Since splitting off from RCN and becoming Sidera Networks, how has Sidera's strategy started to evolve?  Where are you focusing your efforts today?
CH: When I joined Sidera Networks four months ago, the new Sidera brand had already started to gain recognition in the industry; however, we still needed to increase awareness on the pedigree of our network assets and the scale of our datacenter activity. We have a very strong datacenter footprint with over a hundred data centers already connected to our network, but we still had not penetrated some critical candidates within a few hundred yards of our footprint.
So an important new goal of ours is to connect to every data center within two miles of our fiber over the next two years.  We were the first provider to light DuPont Fabros' ACC-6, a key financial services building that tandems off their NJ-1 Piscataway data center.  In just one week, we progressed from initial discussions to full-deployment.  The customer was impressed and we clearly demonstrated our capabilities. You can expect a stream of announcements on similar deployments coming from us in the very near future.
TR: You recently announced a new diverse route to Ashburn, crossing the Potomac to the west, what does that help you do?
CH: One of the first things I realized was that Sidera's Transcom Route, running just west of I-95, provides a unique and diverse fiber footprint between New York and DC, terminating in Rockville.  By bringing that down to Ashburn we became the only provider with two truly diverse fiber paths between Northern Virginia and New York City.  As important, we also have the ability to bypass New York and DC, so we have a completely protected ring with low latency routes in these metros that completely bypasses key network congestion points.
TR: Where do you see the greatest expansion opportunities ahead for Sidera?  Greater depth?  New markets?  New verticals?
CH: I brought with me to Sidera a mentality of build, build, build.  Move fast, move efficiently, but be very accurate and deliberate about where you invest. I plan to expand and complement the assets we've already deployed.  Our network has over a billion dollars invested in it and it is serving the single most difficult vertical in the world: financial services. By continuing to invest around the network we can drive additional verticals, products, and density and increase EBITDA, profit, and margin; which, of course means that we can drive returns to our investors and create paths for M&A.   It's just smart business.
TR: What types of expansion beyond Sidera's current footprint do you find most attractive?
CH: What I don't like to do is invest where I don't have the assets. For instance, we're not going to build a new network in Dallas, similar to what we have in DC.  That's a $50M proposition with a 2-5% chance of success.
That said, I am in favor of expanding geographically around our assets and verticals and where our customers want us to.  We essentially own the financial services market for NYC-Chicago and NYC-New Jersey and our clients there want us to take this relationship to a more global footprint.
TR: Sidera has made a substantial move internationally of late by taking on the low latency transatlantic routes to London.  How did you do that, and are there other international destinations on your list?
CH: Historically, AC-1 had dominated the low latency market inLondon.  Responding to customer-demand for an even faster connection, we utilized a strategic relationship to cross theAtlantic and utilized our in-house expertise to build and utilize the right electronics at the landing stations. As a result we are now offering the lowest-latency route to Slough. We know how to get around the New York/New Jersey metro markets and out to Chicago – all critical to the financial services market, and we're very good at it.  Our customers are asking us for similar connectivity to key financial markets in Pac-Asia and Brazil, and we intend to do that too.
TR: As you know, Hibernia Atlantic is building a new low latency transatlantic cable, how will that new route affect your plans?
CH: That's roughly 12 months down the road; and it's difficult to get a low latency contract beyond 12 months these days. We view them as an important and complementary potential partner. I think their new route will be very interesting.
TR: Do you still see the opportunity for further M&A as part of your growth strategy?
CH: We are absolutely interested in M&A that supports our organic growth.  We are actively looking around and I wouldn't put it past our doing something in the near term, but any moves we make would be to complement an existing market with a higher density of fiber.  The geography would be opportunistic and intended to bolster our NYC, DC, Boston or Chicago footprints.
TR: As you know, Zayo recently agreed to buy AboveNet in the biggest metro fiber deal in some time.  How does Sidera view this deal and how does it affect your own strategy going forward?
CH: I think it's a good fit for Zayo and I like the message it gives – that this industry is hot and has the backing of the financial sector.  From a competitive standpoint, I think it's hard to be aggressive and focused when you're being acquired, which provides us an opportunity to move a little bit faster in the short term.
TR: Thank you for talking with Telecom Ramblings!
If you haven't already, please take our Reader Survey! Just 3 questions to help us better understand who is reading Telecom Ramblings so we can serve you better!
Categories:
Industry Spotlight
·
Metro fiber