Infinera (NASDAQ:INFN, news, filings) this morning announced its first customer contract for its new DTN-X 5x100Gbps product line, and it's not one of the usual suspects. Cable & Wireless Worldwide will be using the gear to help power the brand new EPEG fiber system.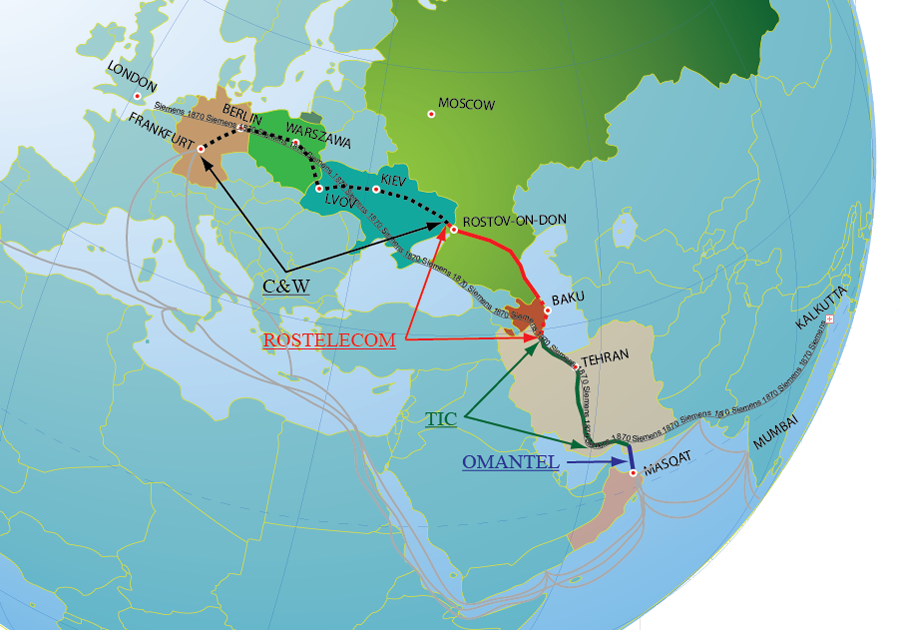 For those unfamiliar with the acronym, EPEC is the Europe Persia Express Gateway, which will be a nearly all-terrestrial route connecting Frankfurt to Oman in the Persian Gulf via Poland, Ukraine, Russia, Azerbajian, and Iran. The system promises a faster and diversely routed alternative to the usual Europe-Middle East path through shipping lanes in the Mediterranean, the Suez Canal, and the Red Sea choke points highlighed every few months by a cable cut.
EPEG is scheduled to go live this May, and C&W Worldwide is in charge of the leg from Frankfurt to the eastern Russia/Ukraine border. If EPEG is to open on schedule, Infinera's DTN-X Photonic Integrated Circuits will be in place sometime in Q2 and hence will probably start contributing to Q3 revenue.  That's a timeline that supports the company's public comments on the subject. Rostelecom, TIC, and Omantel are responsible for the other legs of EPEG.
It's interesting that C&W Worldwide was the first announced DTN-X customer, I was expecting one with a recent or longer term association with them – XO, Interoute, NTT, or yes even Level 3 – to show up first.  For Infinera's first DTN-X win to be both a global service provider and a brand new customer bodes well for their 100G rollout overall.
It's even more interesting in light of the M&A rumors swirling around C&W Worldwide, in which both Vodafone and Tata are rumored to be considering making a bid. I hadn't thought of EPEG in relation to Tata's reported interest, but owning part of a terrestrial Europe-Asia route might appeal very much to Tata.  Meanwhile, Light Reading speculates that this could be a back door into Vodafone for Infinera.
If you haven't already, please take our Reader Survey! Just 3 questions to help us better understand who is reading Telecom Ramblings so we can serve you better!
Categories:
Fiber optic cable
·
Telecom Equipment