This is a guest post by Paolo Gorgò.  If you might be interested in a guest post, then contact the webmaster.
Telecity Group (LON:TCY, news, filings), one of Europe's leading network-neutral data center providers, today announced its results for 2011 and issued a positive outlook for 2012.  Some highlights:
Total revenues in 2011 were £ 239.8 million (approximately $ 378 million), a 22% increase on the previous year (£ 196.4 million);
Adjusted EBITDA reached £ 106.2 million (approximately $ 167.5 million), up 27% from 2010 (£83.4 million);
Adjusted EBITDA margins reached 44.3%, compared to 42.5% in 2010;
Adjusted profit, before tax, reached £ 67 million (approximately $ 105.6 million), an increase of 26% compared to last year's £ 53 million adjusted profit.
During 2011 TeleCity acquired two companies, Data Electronics in Ireland and UK Grid in Manchester (UK), for £ 87.8 million and £ 11.6 million, respectively. Its stock, listed in London, delivered a 38% increase in 2011, the best performance among data center operators.
Occupancy at the end of the year was roughly 83.5%, compared with 79.6% at the end of 2010.
Demand for network-neutral data centers across Europe is described as strong across all market. While TeleCity doesn't issue guidance, management remains confident in other strong year of growth.
TeleCity Group had previously announced its intention to start a dividend in 2012. We now learn that the company intends to pay out a ratio of about 20% of adjusted EPS, and expects the dividends to grow in line with the forecasted earnings growth for the future.  Here is a quote from the CEO commentary about 2011 results:
[paoloadbox]
You're putting a marker down with the announcement of a dividend.  What does that mean for Telecity?
Well, I think it's the next natural step in the evolution of the Company.  We've gone from a start-up business back in the '90s through to being a strong FTSE 250 company now.  And a dividend is just the next stage of becoming a complete organisation, if you like.  Notwithstanding the fact that we have significant growth forecast for the next three years, and we are also, as we've demonstrated last year, interested in organic, bolt-on acquisitions.  Notwithstanding all of this, we have a strong free cash flow generation dynamic in the business, and we feel it's appropriate to start returning some of that to shareholders.
Going through some numbers released by the company, we get an indirect confirmation of the strong financials of the network –neutral data center business model: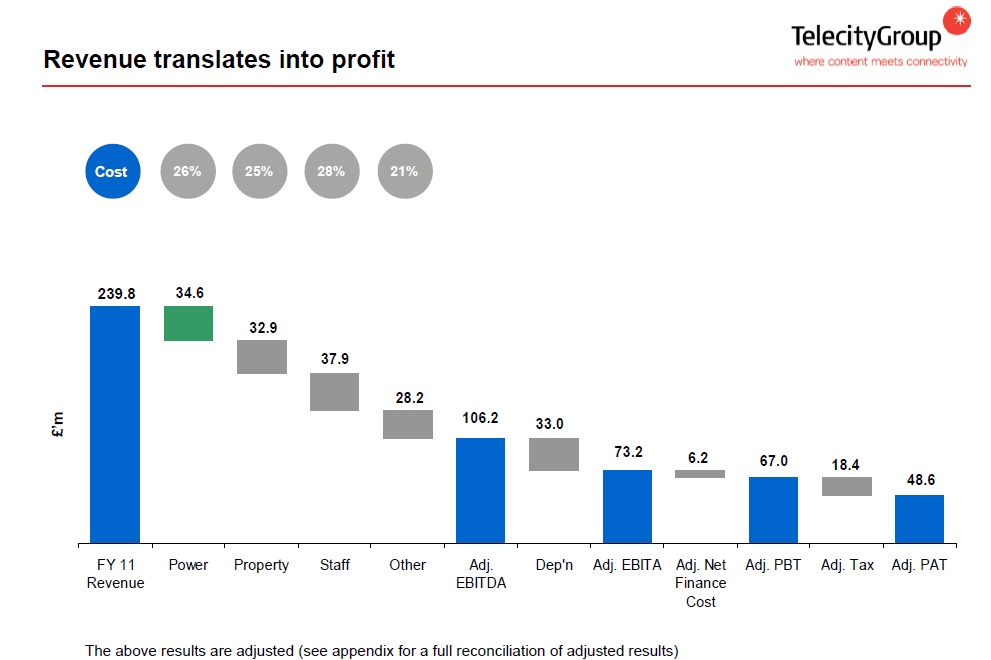 The company also remains committed to strong investments targeted at keeping up with demand. Expansion CapEx in 2011 was the highest in the last three years, as resumed in this chart also taken from TeleCity Q4 2011 conference call presentation: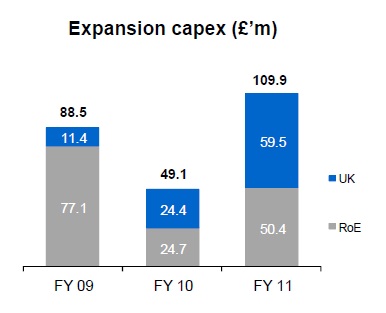 Here is a quick view of the main expansion programs forecasted for 2012: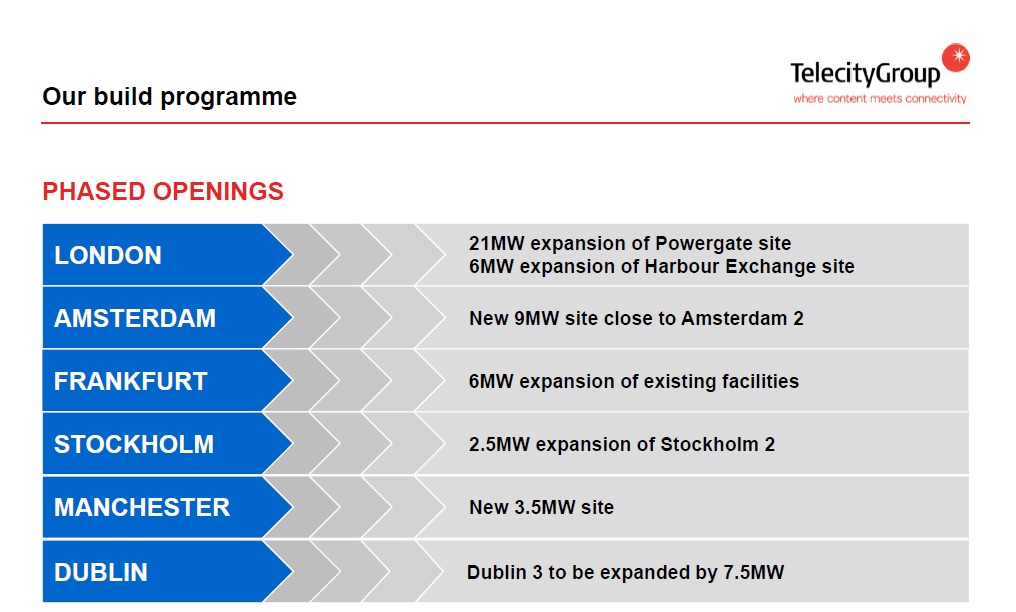 If you haven't already, please take our Reader Survey! Just 3 questions to help us better understand who is reading Telecom Ramblings so we can serve you better!
Categories:
Datacenter
·
Financials