Yesterday a reader left a comment which asked whether the lack of M&A activity by the likes of AboveNet, Cogent, and tw telecom risks being passed by more aggressive acquirers, specifically Level 3 and Zayo. I think that the answer to this question is not so straightforward. It is both human and corporate nature to want to grow, to increase one's reach.  But as we have been shown many times it doesn't always translate into shareholder value.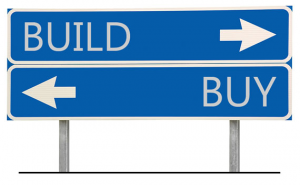 The choice between building and buying is one of the key questions for network operators of all types. Each of AboveNet, Cogent, and tw telecom have chosen exclusively for the past several years to build organically, with each going about it in their own way.  They don't *need* to buy anything, so they can afford to be picky. That said, when you have a business model that works it seems a shame to not find ways to use it as a platform to add assets inorganically that aren't working as well. Private equity has kept asset pricing high, but if there is a lull I think we will see one or more of these three finally make a move.
As for others being more aggressive, I don't view most of Level 3's purchases over the last five years as aggressive but rather defensive due to pressures from their balance sheet. They had to grow into their debt, but they couldn't generate the cash flow necessary to raise capex and do it organically - there just wasn't a viable path. Back in 2006 they needed more metro to counteract the reconsolidation of Ma Bell into AT&T and Verizon - that was also defensive in many ways. In fact, the only truly aggressive M&A by Level 3 I can think of was the purchase of Savvis's CDN assets, by which they have been disrupting Akamai's position and staking a claim to new territory. The rest have had little to do with bypassing the field.
That is not to say that Level 3 does not want to build. They desperately want to, you can hear it in the background when any of their top executives talk about the future - it's just that they haven't been able to shift their footing to offense yet in a big way. The scale added by the Global Crossing deal may give them the chance to do so, and if it does I suspect that we will actually see Level 3 behave much more conservatively in M&A in the years ahead. A healthy balance sheet and more free cash flow than can reasonably be spent on capex is what Crowe and Storey dream about at night, and that's exactly what tw telecom, AboveNet, and Cogent enjoy these days.
Zayo's purchases on the other hand have been very aggressive. You can tell because of the company's capex levels after buying all those disparate assets, which have grown to 30% of revenue or higher nowadays. They didn't buy those assets for immediate size boost, they bought them to get them started on organic expansions and have spent far more than the various previous owners. Zayo really is trying to leapfrog the field, and leave more conservative growth strategies like those of tw telecom, AboveNet, and Cogent behind.  In effect, they have been rejecting the build versus buy choice, opting for build and buy.  But Zayo is still small enough to be this nimble, we'll see if they can keep up this pace when they're doing over half a billion in revenues.
For other recent aggressive acquirers like Earthlink and Windstream/PAETEC, it remains to be seen just how much advantage of scale they achieve, with most of the revenues being more of the traditional CLEC type which have been pressured no matter where they go lately.
The thing about the fiber infrastructure business is that it doesn't depend as much on gigantic scale to work. While scale does improve the economics, it is possible to operate a solid regional or single-market fiber network or a group of data centers profitably whereas in wireless it is apparently nearly hopeless if you aren't one of the top 2.
In the end though, it is organic growth that drives the world.  You can't buy it if someone else hasn't spent the effort to build it first.  As much fun as it may be for bloggers like me to speculate about consolidation, I think we should all simply be glad that it is profitable once again for companies to build out fiber and hope that more choose to do so.  Because it is the organic growth that creates more jobs, and we're losing a bunch of those this winter.
If you haven't already, please take our Reader Survey! Just 3 questions to help us better understand who is reading Telecom Ramblings so we can serve you better!
Categories:
Internet Backbones
·
Mergers and Acquisitions
·
Metro fiber