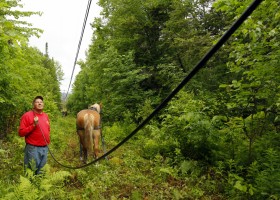 Over the past week, quick articles have sprung up around the internet telling of Vermont's Claude Desmararias and his fiber-laying Belgian draft horse Fred.  Apparently FairPoint Communications (news, filings) has been getting creative in its efforts to satisfy the data cravings of denizens of upper New England, moving beyond the mere, unimaginative truck roll.   Creativity is obviously a good thing, as Fairpoint has obviously had its troubles since taking over Verizon's unwanted northern territories.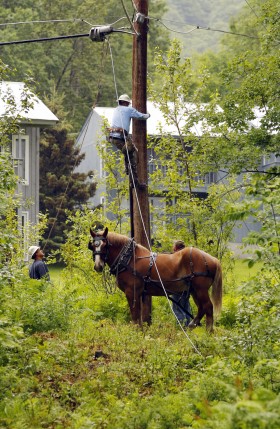 Fred can go where trucks can't, and that is helping Fairpoint lay fiber way into the hinterlands as part of Fairpoint's appointed task of bringing the internet to every home of the state by 2013.  Fred pulls a 48-strand fiber cable from a massive spoool, then backtracks with the crew drawing the overhead lasher along utility wires between poles.  On a good day, they'll string 8,000 feet of cable, with Fred stopping to refuel via local vegetation at each pole.
It took some rooting around to find some more original material, but here's a link to a May article over at VTDigger that probably started it all.  And here are a bunch of pictures that go beyond those in this article.  Apparently Fred and Claude don't have any trouble finding more work, there are plenty of places the trucks don't or won't go.
Any other creative ways to install fiber going on out there?  I'd love some pictures!
If you haven't already, please take our Reader Survey! Just 3 questions to help us better understand who is reading Telecom Ramblings so we can serve you better!
Categories:
Fiber optic cable
·
ILECs, PTTs