This is a guest post by Paolo Gorgò.  If you might be interested in a guest post, then contact the webmaster.
Equinix's recent offering of $750 million of 7.00% senior notes put the company in an even stronger cash position to fund its expansion plans – including increasing its footprint in new markets around the world. Add to this the fact that the company should generate in 2011 alone about $400 million in discretionary free cash flow (money that can also be used for expansion CapEx), and we feel authorized to start the guessing game.
Equinix's ambitions are no secret, as Stephen Smith, the company's CEO, remarked during the Q4 2010 conference call (Seeking Alpha transcript):
Our long-term goal is to build an unrivaled global data center footprint to power the interconnected world. This could take us to new markets, such as Latin America, Eastern Europe, the Middle East and emerging markets in Asia.
Soon after, the company announced the acquisition of the majority of ALOG Data Centers of Brazil, expanding into South America's most vibrant economy.
During its latest presentations, the company indirectly hinted at some of its preferred locations, as shown in this slide, taken from the 2010 analyst meeting: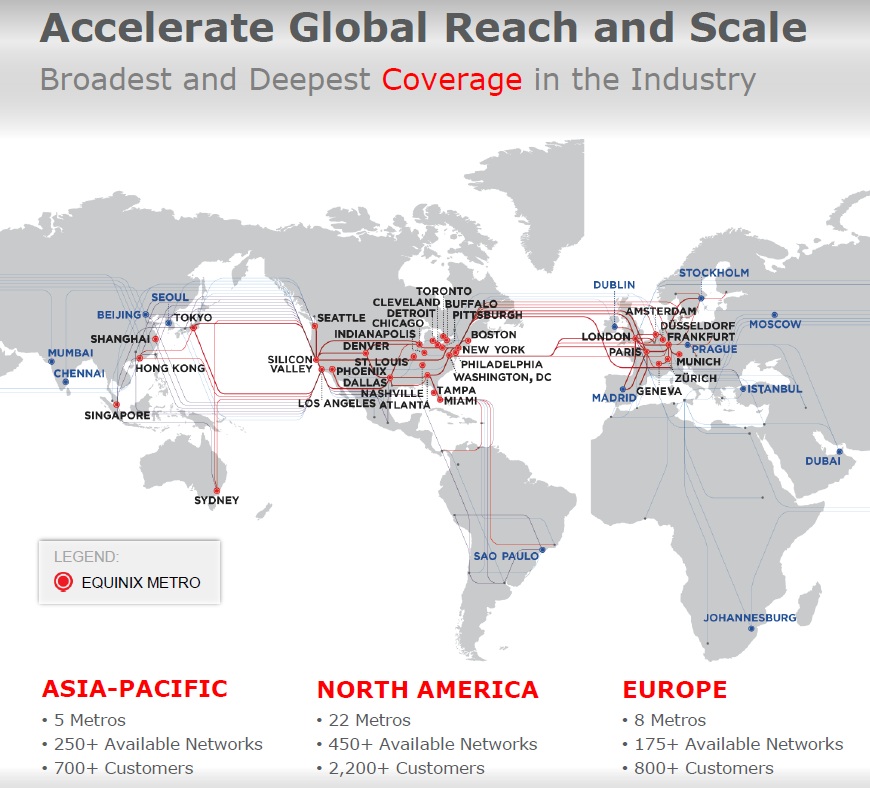 We believe that, assuming the right opportunities emerge, Equinix may be looking at South Korea and India, in Asia, Stockholm (Sweden) and Madrid (Spain) in Europe, Eastern Europe, and Middle East.
A few comments on each of these locations.
Korea would represent a sort of come back for Equinix, as the company could have had a presence there at the time of the merger with Pihana Pacific – but back in those days, the performance of those data center was very poor, and Pihana ended up selling its assets for a nominal price, before the merger took effect.
India is one of the key emerging economic forces in Asia, and could very well represent Equinix's hub in South Asia.
As the company presents itself as the worldwide provider capable of being "within 50, maximum 100 ms to major population markets", or in the "real time" latency class, both these locations would make sense.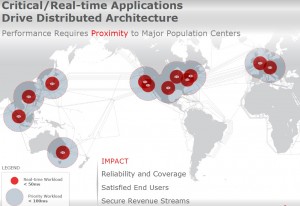 Using a similar approach to Europe, Madrid (Spain) and Stockholm (Sweden) seem to represent the most interesting choices for the company. Milan (Italy) may also be considered a good market, but the northern part of Italy is also very close to Switzerland, where Equinix has already a few facilities. The Italian stock exchange is now physically hosted in London, and this may also play a role in Equinix's decision – having a presence in most financial markets is a key concern for the company, but it wouldn't justify the need for a local presence, in this case.
Ireland is a key hub for many US multinational companies, and shouldn't be ruled out completely.
Eastern Europe and Middle East represent, for different reasons, harder markets to reach – as well as a great potential.
In November 2010, Equinix participated at the Cloud Computing Forum organized by Saudi Aramco (the largest Oil & Gas Company in MEA). Saudi Arabia is the largest IT market in the region, a key location in the Middle East, and obviously a market rich of affordable energy.
Mr. Simon Lee, former general partner at several notable investment firms including Sapience Capital Partners, Infotech Venture Partners and Baker Capital, who also led in the past a number of successful investments in the internet infrastructure space, including Interxion, had the presentation on behalf of Equinix, underlining the company's track record in the Internet infrastructure business, and the advantages of having the worldwide leader in network neutral colocation expanding its reach to a region that could potentially become the hub between Europe, Africa and Asia.
Entering all these markets won't be easy, for different reasons, but there is no doubt that Equinix is working, behind the curtains, to further expand its geographic reach and include new markets to its footprint. Time will tell if our crystal ball has been, at least for a few locations, right.
[paoloadbox]
If you haven't already, please take our Reader Survey! Just 3 questions to help us better understand who is reading Telecom Ramblings so we can serve you better!
Categories:
Datacenter
·
Guest Posts