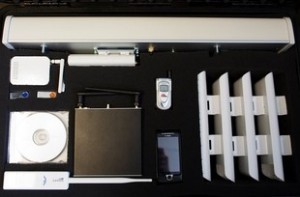 The New York Times had an interesting feature yesterday detailing developing plans by the US Government to help deploy shadow internet and mobile phone systems wherever other governments try to shut them down in an effort to silence dissidents.  That effort includes a prototype "Internet in a suitcase" which could be taken across the border and quickly set up into a wireless access node and thus give the good guys a route past the censors and shutdowns.  Liberation technology, they're calling it.  But as Rob Frieden notes, we have more than a few places in the US that could use such liberation technology – but won't be getting one any time soon.
Having this sort of idea go public would seem to let the other side prepare for it though.  I imagine that China, which has been running bandwidth-scared since the whole Jasmine revolution stuff started to its west, read that article very, very carefully.  The next time I cross that border I expect they will ask me more about the array of technical gadgets my family travels with – it's quite extensive.  Even still, it's nice to hear of a bit of cyber-warfare preparation that isn't about how utterly doomed we are.  So now perhaps we have the ability to go on offense!  Ok, so it's only against the least internet-savvy bad guys who are victimizing their own people, and not against the much more internet-savvy bad guys who are aiming at us more directly – but still, it's offense.
Seriously, have you ever tabulated the range and breadth of the spectacular cyber attacks and shutdowns of the past few years?  What's amazing is the range of motives and targets: from pure, anarchic, anti-corporate retribution hackings, to quasi-government-sponsored infiltrations aimed at repressing dissidents, to desperate wholesale internet shutdowns in the face of widespread protests, to simple but highly organized credit card and banking theft, to 'accidentally' fat-fingering censorship-related routing updates, to denial-of-service attacks aimed at an entire country.   It's enough to make the hair on a Congressman's chest fall out so he can tweet the pic to younger women.  Oh wait, wrong subject.
If you haven't already, please take our Reader Survey! Just 3 questions to help us better understand who is reading Telecom Ramblings so we can serve you better!
Categories:
Government Regulations
·
Wireless