According to a report on Data Center Dynamics, Google has taken all available space at the key New York City colocation facility of 111 8th off the market.  They bought the 3M square foot building over the winter for $1.9B, taking charge of a facility populated by a who's who of the datacenter and carrier world.  Equinix, Digital Realty Trust, and Telx all operate huge tracts of space there, and the facility is home to a very wide range of network operators.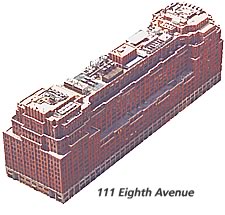 Only a fraction of the building's total space is built out for colocation, but that space is currently full.  The rest is just office space though, and much of that could be converted someday.  By taking that potential space 'off the market' as the article suggests, Google is going to affect the dynamics of the colocation business across the entire NY metro area.
The question is, just what are Google's plans for this building?  Over on the Green Data Center blog, Dave Ohara suggests that their plan might be to use space in the building as a bargaining chip in negotiations with large telecoms.  That seems like a good guess, as the prospect of Google pushing the other tenants out after their leases are up seems counterproductive.  111 8th is important at least as much for the connectivity of its tenants as it is for its location.  It wouldn't be worth as much as a giant Google-only building, would it?
But Google's reasons could be much less conspiracy-laden.  They could simply be planning to convert a big chunk of that office space into a giant, centrally located Google datacenter facility alongside its valuable existing tenants.  That would obviously also mean any space already on the market would be pulled in favor of the new project.  I mean, we knew Google didn't buy the place just to be the landlord.  They want to put a whole lot of servers in there alongside the existing tenants and they want to do it their way.  And when you've got the cash and need to invest it someplace anyway, the simplest way to do that is to just  buy the place.
If you haven't already, please take our Reader Survey! Just 3 questions to help us better understand who is reading Telecom Ramblings so we can serve you better!
Categories:
Datacenter