One of the first questions that springs up in looking at this deal is whether Level 3 really ought to be taking on another integration after the well known troubles they went through in 2007-2008.  Actually, there are a number of reasons why this one should be much easier:
Cleaner asset fit – Much of Level 3's troubles the last time around came from two sources: the mismatch in the customer bases with Broadwing, and a plethora of differently run but physically intertwined metro assets.  Global Crossing's local assets in South America and the UK outside of London will need little integration, as they are independently run and have no geographical corollary at Level 3.  The US and continental European assets are mostly longhaul, which is less messy and more familiar.  The multinational corporate business of Global Crossing can also be swallowed mostly whole.  And the US backbone of Global Crossing lies on the original Qwest build just as Genuity's once did – they are quite familiar with it.
Equipment compatibility – Global Crossing's backbone of today has a pile of Infinera gear in it, as does Level 3.  That contrasts with Broadwing's former Corvis gear, for example, which was an entirely different beast.  Of course, Level 3 has been said to be transitioning from Infinera gear to Huawei, but nevertheless most of the existing gear is probably quite compatible.
Fewer skeletons in the closet – While you won't hear it from them (keep it simple), Level 3's previous speed bumps were more than simply integration issues.  A whole barnyard of other chickens came home to roost when things went south, which is part of why it took so long to work through.  While that process was not any fun, the demons of the past have been largely exorcised.
Global Crossing has some integration expertise too – While Level 3 will have to prove its skill at integration again, Global Crossing has a rather good track record in this regard.  They integrated both FiberNet in the UK and Impsat in South America without a hitch, and thus far things seem to have gone well with Genesis Networks.
That's not to say such an integration will be a piece of cake, these are two multi-billion dollar companies with more than five thousand employees each spread around the world.  Anytime you take on a task that large, there are plenty of risks.  But on some levels, really is more straightforward this time.
Here's the map from today's presentation of the combined assets: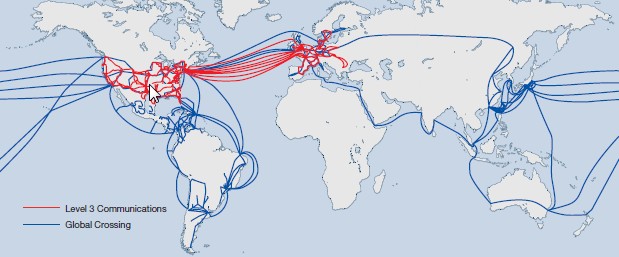 If you haven't already, please take our Reader Survey! Just 3 questions to help us better understand who is reading Telecom Ramblings so we can serve you better!
Categories:
Internet Backbones
·
Mergers and Acquisitions