And now for something completely different.  The dangers to fiberoptic cables are many, but the country of Armenia managed to get its internet taken down completely last week by one 75-year-old woman in the country of Georgia.  Scavenging for copper near Ksani, she apparently came upon a major fiberoptic cable owned and operated by the Georgian Railway Telecom company which supplies bandwidth to all three wholesale providers in Armenia: ArmenTel, FiberNet Communication, and GNC-Alfa.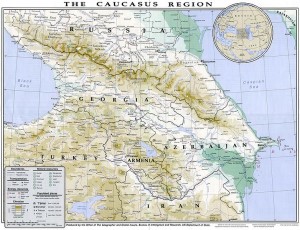 And of course, she immediately hacked into it.  Literally.  I mean with a spade.  For one elderly woman, that must have been some really determined shovel work.  Surely it wasn't just lying around on the surface and she had to dig it up first?  The idea, of course, was to 'recycle' it.  She now faces as much as three years in prison, but I suspect they won't take it that far now that she's gained some international notoriety.
Service to Armenia was restored after midnight, but I'll bet they're looking for a little network diversity now.  A quick look at the map though shows their difficulty on that front though.  Let's see, do we trust our connectivity to fiber through our ancient enemy Turkey, the international pariah Iran, or the country we most recently fought a war with, Azerbaijan.  Maybe another route through Georgia is best, just bury it deep so the old ladies at least need to team up to get at it.
If you haven't already, please take our Reader Survey! Just 3 questions to help us better understand who is reading Telecom Ramblings so we can serve you better!
Categories:
Fiber optic cable