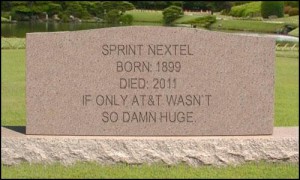 You know, I'm getting a bit sick of reading about how the AT&T/T-Mobile deal is going to single-handedly kill Sprint Nextel (NYSE:S, news, filings).  You know, the ones where it sounds as if Verizon doesn't stoop to buying them by next month then the ground will open up beneath their feet, swallow them whole, and belch out pieces of shredded Clearwire.  Yeah, those.  So I just have to say something.
Sprint isn't losing money each quarter because they're smaller than the big two, they're losing money because they royally screwed up the Nextel acquisition.  They didn't lose customers for several years in a row because of excessive market leverage by Verizon and AT&T, they did it all without assistance.  But they have mostly turned that corner, and to be #3 in size is not a death sentence.  Really, it's not.  Even a distant #3.  In this case, it's 49.9M subscribers and $32.5B in revenue with a nice running start at 4G already in progress.  You CAN make money without having $100B in revenue.  I swear, you can.  In fact, there are wireless providers that do it on much less – MetroPCS for one.
The T-Mobile deal certainly reduces their options, but I take exception to the theory that the fat lady has sung and is now at the bar knocking down her third bourbon.  On the contrary, Sprint has an opportunity here to retool itself as the only remaining insurgent provider of any significance.  And they have a whole year in which to make hay with that status before AT&T actually succeeds in buying T-Mobile (assuming it even happens).  Let's put off writing epitaphs for a while yet, and give Sprint a chance to dig in and maybe think creatively of ways to turn parts of this situation to its advantage.
If you haven't already, please take our Reader Survey! Just 3 questions to help us better understand who is reading Telecom Ramblings so we can serve you better!
Categories:
Mergers and Acquisitions
·
Wireless