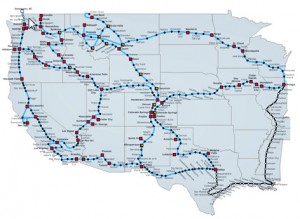 Amongst the more independent, unique fiber assets out there is the western regional footprint of 360Networks, much of which derives from the former Touch America buildout.  Lately the company has been expanding beyond the wholesale transport and VoIP it has favored and into the IP and Ethernet marketplace.  With us today for a quick Q&A is Rick Coma, senior vice president at 360Networks.  With no further ado:
TR: In the past you have been known for transport and VoIP, but recently have been moving into IP transit.  What's behind that move?
RC: With the regional footprint and connectivity we have today, we felt we should be doing more in the IP space.  We're not there today, but over the next year you'll see us focused a lot more in the IP space..
We're expanding on our basic transport business and taking advantage of the network assets and key interconnections we have in place.  I think a lot of people view us as a fiber transport carrier that only touches remote markets out west, but we also connect to a lot of Tier 1 markets, big data centers and Internet exchanges.
TR: As I recall, you had been powering your network with Infinera gear, but I saw that the recent upgrade included Alcatel-Lucent gear as well.  What does your network look like now?
RC: We have enhanced our optical backbone, added Layer 2 Ethernet and upgraded our IP core.  We are also enhancing our connectivity at the major Internet exchanges to support additional peering and connectivity for new services.  So at the optical layer we have a combination of the Alcatel-Lucent and Infinera gear.  We utilize Alcatel-Lucent for layer 2 and added Juniper in our IP core.
TR: Since you added layer 2 Ethernet, do you plan to participate in the new Ethernet exchanges that have been popping up?
RC: We do, and we are looking at that now and deciding what our approach will be.  Over time you will see us involved with the Ethernet exchanges.
TR: You're also using it to power your new Virtual Internet eXchange product, offering direct connections to major peering exchanges?
RC: Yes, we're interconnected at a lot of the major Internet exchanges, and with the deployment of our layer 2 platform it's perfect for us to be able to interconnect with customers and allow them to access the exchanges by riding our layer 2 network all the way into the peering fabric, which enhances performance and reduces their overall IP costs.  Customers can eliminate a lot of costs associated with remote peering and use our layer 2 network as a direct extension into the peering fabric.  We see this as a big step in helping to facilitate direct connectivity or peering for our customers.
TR: There has been a surge in M&A in the fiber sector, both by strategic buyers and private equity.  How has 360Networks viewed this consolidation and do you have any plans to participate?
RC: We're always watching and listening, but we haven't done anything in that area recently.  Most of our focus has been on organic growth: new products and expanding our footprint.  We have seen a lot of success in this area.  If a good opportunity comes along that makes sense, we may take a look at it of course.  For now though, we're focused on organic growth.
TR: Do you have any plans to expand your network organically?  East of the Mississippi perhaps?
RC: We have no plans to expand eastward, but we will be expanding into some new areas.  We are working on a new route into Vancouver BC, we're expanding in the  Bay area, and we still have some dark fiber to light that will expand our current footprint.
TR: How does the recent agreement with Alpheus fit into those plans?
RC: We will use Alpheus's network to get some trunking into the Texas area to extend our VoIP footprint, and also utilize their last mile infrastructure to expand the presence of our single point of interconnect T1 solutions there.
TR: Your other major product line is wholesale VoIP, do you have similar expansion plans for it?
RC: We continue to see good growth in that area, and are always looking to expand our footprint.  We're adding new markets in Texas and a few more in California this year.  We're also enhancing our termination product, last year we implemented a new least cost routing engine for instance.  Overall, as the industry transitions from TDM to VoIP we will continue to see good growth in this business.
TR: Have you seen much pricing pressure for your wholesale voice offerings?
RC: No, we really haven't.  We sell both origination and termination.  For termination you're always dealing with carriers adjusting their price points and routes, but the pricing pressure hasn't been that strong.  On the origination side, we serve 1500 rate centers, some larger and some smaller and more unique.  But over the last year or two, we really haven't seen any pricing pressure at all.
TR: How have the macroeconomic pressures of the last few years affected 360Networks?
RC: The last two years have been the best on record for 360Networks.  So it has had no impact.  We have a unique asset and have been able to deliver the services our customers need.   I think we will continue to see good growth in this business.
TR: Thank you for talking with Telecom Ramblings!
If you haven't already, please take our Reader Survey! Just 3 questions to help us better understand who is reading Telecom Ramblings so we can serve you better!
Categories:
Ethernet
·
Industry Spotlight
·
Internet Backbones
·
VoIP