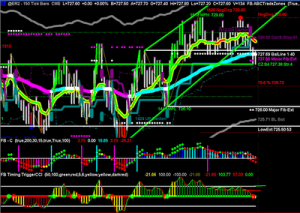 While I have been very glad to see the frenzy over low latency connectivity bringing differentiation and favorable pricing trends to parts of the bandwidth market, in the past I have nevertheless taken a rather dim view of high frequency trading itself.  My feeling has been that HFT adds little to the world except more liquidity where there was usually plenty already.  Its real function is just to enable traders to pick each others' pockets more frequently in a zero sum game. Well I think that's still basically true, but nevertheless I like it now, and here's why.
The financial community is incredibly dependent on bandwidth and connectivity, more and more every day.  But because of the excesses of the bubble and the ensuing aftermath, for a decade financial companies have been getting their bandwidth way too cheap in comparison to the value they derive from it.  At some point, the pendulum had to swing back, and the dollars being spent by all the trading firms, banks, and exchanges on low latency connectivity are simply the physical manifestation of that starting to happen.
One of the greatest casualties of the telecom nuclear winter was differentiation in bandwidth.  A wavelength became merely a wavelength to most buyers, no matter who you bought it from or what path the underlying fiber took  – so long as the loop wasn't collapsed and sometimes not even then.  Sure network operators spent lots of marketing dollars trying to say otherwise, but only a few buyers (e.g. the gamers) cared, and pricing went to hell and stayed there.  It bottomed out and started getting better in the past few years, but only now that traders are jockeying for position via the fastest routes from exchange to exchange are we seeing a sellers market emerge where differentiation makes all the difference.
If the financial sector spends too much money picking its own pocket by the millisecond rather than the second, then so what.  It's just a symptom of a greater truth:  that fiber and transport and Ethernet and IP have enormous value to the global economy that has for too long exceeded the value its owners and operators have been able to derive from it.  So while the HFT craze is often cast as an opportunity for the financial industry to make more money, I view it more as an increase in the whole sector's cost of revenue that should have happened long ago.  The glut is dead.  Long live HFT.
If you haven't already, please take our Reader Survey! Just 3 questions to help us better understand who is reading Telecom Ramblings so we can serve you better!
Categories:
Low Latency