On Friday, PAETEC (news, filings) announced that it has named former Intellifiber chief Clint Heiden to its senior leadership team.  Heiden will take on the title President of National Accounts and Fiber Services, and will be leading the company's new 'national fiber division' as well as overall strategy for large enterprise customers.  There was a time when PAETEC and fiber weren't used in the same sentence, but nowadays they are sitting on a rather imposing pile of assets: 36,700 route miles of fiber, more than 10,600 of that in the metro with around 3,000 on-net buildings.
What this move and other whisperings suggest to me is that while the rest of Cavalier will be quickly digested, PAETEC is keeping Intellifiber largely intact and is in fact taking the idea national.  While they they had picked up a large amount of fiber from the McLeodUSA and had been placing more emphasis on fiber in the last year, PAETEC has not made a truly coherent effort to leverage those assets to their fullest.  Cavalier originally assembled Intellifiber to take a disparate set of cast-off fiber assets and meld them into a viable independent fiber operator.  Some say that was merely a tactic to sell it off, but the division outperformed its ancestors and in the end it was Cavalier itself that sold after running into headwinds on the CLEC side.
Whether they keep the brand name or not (I have no idea), it seems likely that Heiden's new position means that PAETEC intends to leverage all that fiber via an internal but independently operated fiber operator.  Thus PAETEC can keep its traditional CLEC business highly focused while still (hopefully) gaining the margin advantages that come along with owning a much greater percentage of its own network.  EBITDA margins still hover in the mid-teens, which hampers their ability to turn that scale ($2B in annual revenue now) they have achieved into actual profits.  And the former Intellifiber team now gets a shot at a larger playing field.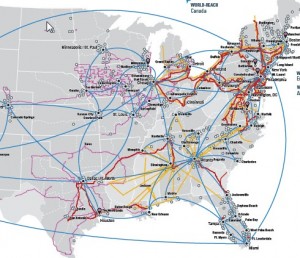 But even with both the McLeodUSA and Intellifiber fiber assets combined, the footprint is not yet truly 'national'.  PAETEC could use some fiber out west and in the southeast to underlie the leased network they use in those regions.  That might suggest the company will be on the prowl for further fiber acquisitions.  Ones that might make sense in the west would be 360Networks or even TelePacific.  In the southeast it was Deltacom that seemed to fit the best with PAETEC's overall business until Earthlink snapped them up.  Any other possibilities out there that make sense?
If you haven't already, please take our Reader Survey! Just 3 questions to help us better understand who is reading Telecom Ramblings so we can serve you better!
Categories:
CLEC
·
Mergers and Acquisitions
·
Metro fiber