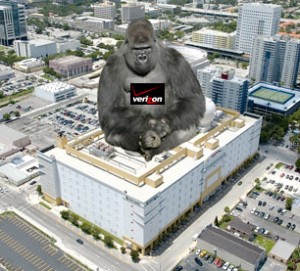 Rich Tehrani has an interesting piece on the the implications of the NAP of the Americas falling into the hands of one carrier (Verizon), following yesterday's surprise M&A announcement.  It's not about net neutrality though, but about carrier neutrality which is a very different thing.  The purchase stands to change the landscape of interconnection for a large chunk of the internet in ways that cannot be foreseen.
The NAP of the Americas has for some time been one of the top neutral interconnection spots in the carrier hotel market across the USA, and its specialty amongst that group is obviously its position as a principal gateway to all of Latin America.  Verizon's intent to purchase the facility would by definition take away the facility's carrier neutral status, whether Verizon actually changes anything about how it does business or not.
But does that mean the end is nigh?  That Verizon can and will use this position to throttle competition and threaten the business model of other operators?  Not by a long shot, because this is a very competitive space in which opportunities rise and fall and many are willing to sink money into.  Actually, I really think Verizon cares little about this angle – their purchase is about cloud services.  But it doesn't matter what Verizon thinks or does with regard to the NAP of the Americas and its unique position.  Because they are not only a carrier but a goliath amongst carriers, there will be an industry response nonetheless.
What it means is that some other carrier neutral hub in Miami (existing or not-yet-even-on-paper) may soon have an opportunity to move into the carrier neutral void left behind and become the next gateway to Latin America.  Actually, between CoreSite, Equinix, Digital Realty, QTS, Dupont Fabros, i/o Data Centers, Data Foundry, InterXion, Telx, Telehouse, and many others – I expect that any such void would be filled rather quickly.  In fact, I'd be surprised if half of those companies don't already have hastily scheduled meetings set up this morning about the potential opportunities that might have arisen overnight in Miami.
Heck, Verizon might even sell off that piece before such a response materializes.  As I said, I think that for Verizon this is about the cloud services and the federal contract penetration, not the carrier neutral colo.
What do you think?  Is Verizon + Terremark a threat to the status quo of the internet?  Leave behind your thoughts in the comments below!
If you haven't already, please take our Reader Survey! Just 3 questions to help us better understand who is reading Telecom Ramblings so we can serve you better!
Categories:
Datacenter
·
ILECs, PTTs
·
Mergers and Acquisitions