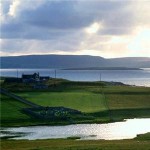 There's a fascinating article about how the Shetland Islands is putting in its next generation of fiber infrastructure.  It's meant to connect to the new SHEFA2 cable, which is bringing a direct fiber connection to the island, replacing the existing microwave link that has simply not been able to keep up lately.  But the Shetlands have, shall we say, rather few people and thus fiber is hard to justify even with a government grant. 
They're using a 'Ditch Witch' to dig a trench right down the main roadways.  And by trench, I mean a really small hole in the ground you could drive over (though they'll fill it of course).  It's just 20mm wide and 100mm deep, or about three quarters of an inch wide and 4 inches deep, and the fiber along with foam packing goes on top followed by a layer of concrete and tar.
The costs are far cheaper than earlier plans, and they'd have to be in order to hook up a mere 22k people - or however many of those actually live in town. Otherwise, you're talking about FTTS (Fiber to the Sheep).  Great scenery up there though.
If you haven't already, please take our Reader Survey! Just 3 questions to help us better understand who is reading Telecom Ramblings so we can serve you better!
Categories:
Fiber optic cable