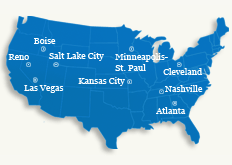 Well, you heard it here first if only by a few hours.  Zayo Group has announced an agreement to purchase Rochester-based American Fiber Systems.  The deal will be Zayo's 15th acquisition since its 2007 inception, and the second so far in 2010.  Financial terms were not disclosed but the Rochester Business Journal pegs the price at $185-190M.  [EDIT: Further information says this range is too high!]  I'm still looking for a datapoint somewhere to figure out what EBITDA multiple they might have paid, but haven't found one yet.  I fully expected Zayo would be making another move soon, but I actually didn't think it likely that they would go after AFS until hearing about it last night.
So what does Zayo get for its money?  A pure metro fiber business covering 9 markets with roughly 1200 route miles of fiber.  That fiber connects (at last count) some 627 buildings, mostly wholesale and larger enterprise sites.  Two of those markets add substantial depth to Zayo's existing footprint:  Cleveland and Minneapolis.  One, Atlanta, dovetails very nicely with Zayo's other pending purchase of AGL Networks.  Four related markets in the mountain west fill in the map between Zayo's Colorado and Washington markets: Boise, Salt Lake City, Reno, and Las Vegas.  And of the other two, Nashville fits nicely with Zayo's Memphis market, while Kansas City gives them a foothold in the lower plains.  AFS's share of US Carrier's regional fiber throughout Georgia will also fit well with Zayo's other regional fiber holdings.
So what's left to be fleshed out on Zayo's map?  Looks like New England, Florida, and more in California and Texas.  Hmmm, Texas…  Alpheus perhaps?
American Fiber Systems CEO Dave Rusin has long been a blogging neighbor and frequent commenter on Telecom Ramblings, perhaps this will free him up even further to continue his industry commentary.
If you haven't already, please take our Reader Survey! Just 3 questions to help us better understand who is reading Telecom Ramblings so we can serve you better!
Categories:
Mergers and Acquisitions
·
Metro fiber