Two weeks ago, Allied Fiber detailed the first stage of its buildout of a new national longhaul fiber network.  The company's plans have surprised some in the industry, and suggest an evolving view of the economics of intercity fiber.  What has been missing from my articles about Allied Fiber thus far is detailed information on the company's actual business model, which is mainly because I was still collecting it.  Today we will begin to rectify that omission with an in-depth interview with Allied Fiber's founder and CEO Hunter Newby:
Telecom Ramblings: The first thing people see when they look at Allied Fiber's plans is the long-haul fiber and duct, which has been a very tough business since the last bubble.  How do you differentiate yourself from that legacy?
Hunter Newby: If we called the company Allied Colocation or Allied Wireless Backhaul, no one would have noticed, or may have instantly thought that it was a great idea.  There is a misconception by some that this is a one-trick long-haul fiber network.  That would probably be more true if that was all this is about, but it is not.  It also includes neutral colocation and towers/fiber for wireless backhaul. There is merit to the long-haul, but it's not about long-haul fiber only.  It's about short-haul built into a long-haul system.  It's like a mini metro network in a certain design that carries throughout the way between the major cities.  This is no legacy long-haul design.
The confusion for some may begin with the fact that we are not a carrier. We do not sell lit services. This distinction is key. Our primary business is dark fiber and neutral colocation to house network operators' equipment. Essentially, we are in the real estate business. This is a different model from those that were and are known to be in the "long-haul" business as they are carriers and do not operate neutral colocation facilities. Allied Fiber is a combination of many proven segments of the industry, so it might need its own new classification to be better understood.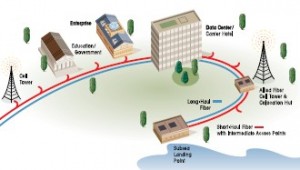 TR: Your network design features a short-haul duct that runs parallel to the long-haul duct, how does that change the business model?
HN: The short-haul duct's unique characteristic is that it is meant to be cut into, with handholes placed wherever they need to be – currently engineered at every 3000 feet along the route. That means that we can provide for intermediate access on a lateral basis for folks to build into us:  dig a trench, place a handhole, fusion splice the fiber, and use the short-haul duct to shuttle those fibers in either direction to the nearest regeneration/colocation facility (within 30 miles).  This opens up the entire route to anything that needs access to dark fiber.
Those short-haul fibers are like really long cross connects.  Carriers and service providers of all types can bring that lateral into our regen/colo facility, which doubles as a meet-me room.  There are no servers; it is not a datacenter environment. It is for core transport and transit/peering interconnection. Once inside, the carrier can lease long-haul fiber to the next major interconnection/peering point, or simply establish a connection to any other carrier in the facility to reach their other PoPs, a carrier hotel, etc via lit service.
These facilities provide for multiplicity of functions that simply do not exist in current carrier long-haul regen facilities.  Carrier long-haul huts do not promote multi-tenant interconnections and they do not offer intermediate access to a second short-haul duct for lateral intercept.  All we do is allow people to interconnect to us, to themselves, and to each other openly in an environment with standards and rules specifically for carrier neutrality.
TR: How does the short-haul duct help you address the tower backhaul market?
HN: The railroad already has 4400 tower sites along its routes.  In our Phase 1 there are already 300 tower sites that are actually sitting on the duct. We have direct access to these towers and adding fiber to the towers is totally incremental for us, in terms of time and cost. Once the wireless industry, both mobile and microwave, express their demand, we can facilitate the fiber connection easily.  We can also build new towers on the railroad Right of Way where network operators say they are needed and obviously those would come with fiber and neutral colocation from the start.
We also allow for and promote laterals from existing towers to us, and can bring anyone onto the railroad Right of Way through our agreement to access our short-haul and long-haul fiber.  This basically allows our 1300 mile long-haul route to be the main artery and the short-haul to be the "service road" for lateral intercept points, which create the shortest route to bring towers on-net.  In many cases that will be via a subtending ring, from our short-haul duct to multiple towers and back again at another point.  We are working with carriers and tower companies to address the thousands of towers within a mile of the Allied Fiber route in Phase 1.  We do not build the laterals; the local RLEC, MSO, or regional transport providers do that.

TR: One major argument against what you are doing is simply that there isn't enough money in long-haul dark fiber to support such a new build.  How will your business model pay for itself?
HN: There are many buyers of short and long-haul dark fiber out there. Aside from major city pair requirements for dark fiber, there are also requirements for dark fiber to places in between. Whoever believes that argument does not see the link between the long and the short-haul fibers. When fiber-to-the-tower is taken into account and the long-haul fiber is put into that perspective, it becomes clear that the physical route and its associated neutral colocation facilities are unique. How does one get fiber out to those places in between and back so as to get fiber to the towers? The long-haul compliments the short-haul and vice versa.
In addition, our whole business model is not based on selling dark fiber alone, and that is another key differentiator.  We are in the neutral colo business.  We lease cabinets in our regen/colo facilities to the carriers that are coming through that necessarily need that space to operate their long-haul systems, as well as to network operators of all types (RLEC, MSO, Wireless) that want to connect with them in the multi-tenant environment we encourage.  They lease one or two cabinets or more to place their transport equipment as a new node on their network, and use that point to crossconnect to other networks.  We essentially have 19 meet me rooms in Phase 1.
The upfront build cost is covered by the dark fiber IRUs we are selling, but the recurring cash flow from the cabinets in the colo business and the monthly recurring revenue from the short-haul and fiber-to-the-tower are what sustain us just like any colocation or metro fiber business. People that look at this and think it is just long-haul fiber are missing the point.
In addition, it has been made quite clear that rural broadband network operators need back-haul. Our route provides them a way to gain access to a neutral colocation facility, dark fiber and lit services from other major carriers to grow their own networks. This is essential for the expansion of broadband in the United States.

TR: Why restrict yourself to colocation and dark fiber, when so much of the rest of the industry focuses on lit and managed data services?

HN: Focusing on something that no one else is focused on is what differentiates us and makes us unique. We do not fall in with the concept that you make more money when you sell lit.  It's true that the top line goes up.  It's true that the margins are good.  But you also then put yourself into a category with a much greater number of competitors.  We have always felt that being at the physical layer in the real estate business and being neutral is a natural model. We know how it operates, We know how to defend it.   We know it is good for people. We give them what they need, and they pay us because they trust us not to compete with them and we never break that trust.  And then we have a business that's unique.  We don't have any direct analogous competition on our route.
Another very important component of our business model is to drive business to our tenants. We have created an online resource, the Dark Fiber Community (DFC), to facilitate transactions between the buyers and sellers of the major components of networks. We list hardware vendors of DWDM, Ethernet and Microwave equipment as well as NOC services, Tech Support and major colocation and data center facilities so that anyone looking to build their own network can find all of the critical pieces they need in one place. The DFC is a single place to get all of this information, contact a direct representative from each company and even set up one-on-one meetings.
Some DFC members may not be looking to light their own network, or want to light a short-haul segment and lease the long-haul component from another carrier already coming through the facility. For them, we are creating a Transport section to the DFC so that those buyers can find the sellers of lit services in each of our colocation facilities.  Hopefully this helps everyone better understand what we are trying to do. We are not trying to compete, we are trying to create.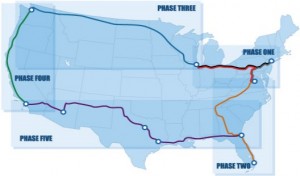 TR: Phase 1 of your buildout, consisting of NYC-Chicago-Ashburn, is scheduled for completion later this year.  At what stage are your Phase 2 plans?
HN: Phase 2 begins sometime after we finish Phase 1 and have sufficient cash flow and customer demand to justify the build. Phase 2 is projected to cost about $180M. It will take 18-21 months to construct from when we start.  We have already secured ducts from Chattanooga all the way to Miami.  We have to build southwest through Virginia to Roanoke and then down to Chattanooga which is not going to be easy but can be done.  We already have significant interest in Phase 2, including three well known entities in Tennessee.

TR: How much has the rise of low latency trading in the financial markets influenced your business model?
HN: We did NOT build Allied Fiber to cater to the financial trading firms.  It was the furthest thing from our minds.  The fact that our route will be the shortest route available for lease on a dark fiber basis between New York and Chicago was not a consideration.  It is a benefit, yes, but definitely an unintended consequence.
Low latency implies a lit service. Since we do not offer lit services it really becomes a function of the equipment that the network operators use. We are working with several financial trading firms directly as well as many carriers that are building "express routes" over the Allied Fiber system. We have been told that the latency reduction over the Allied Fiber route will be meaningful compared to current routes.
Two of the most beneficial components of the Allied Fiber system for those looking to produce lower latencies are (1) that we will splice fibers through certain Allied Fiber colocation facilities, essentially skipping every one or two and allowing the fiber to travel 120 or 180 miles without interruption; and (2) we will lease short segments of fiber that allow those that wish to patch together a shortest path route the ability to do so.
TR: Thank you for talking with Telecom Ramblings!
If you haven't already, please take our Reader Survey! Just 3 questions to help us better understand who is reading Telecom Ramblings so we can serve you better!
Categories:
Fiber optic cable
·
Industry Spotlight
·
Internet Backbones