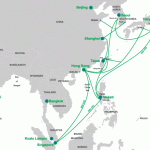 Is China Telecom (NYSE:CHA, news, filings) about to snap up Pacnet?  According to sources familiar with the discussions, due diligence has been going on for some weeks now and China Telecom's interest seems real, although financial details of such a deal are not yet clear.  Pacnet, which operates the old Asia Global Crossing cables amongst other assets, has been making noise for the past year and there has been M&A talk around them several times.  However, while those rumors – a bid for AAPT or for a content delivery network – never made much sense to me, this one actually does both on strategic and financial grounds.  Pacnet's recent visibility may always have been more about finding a suitor than anything else. Certainly some have argued that Pacnet's private equity backers may prefer such a scenario.
Rapidly rising traffic on its own turf on the mainland has been rapidly transforming China Telecom into a global player, one that Renesys now ranks as the #11 IP backbone worldwide.  Yet growth in traffic levels and influence have outpaced similar growth in physical assets, meaning that China Telecom's international presence remains mostly virtual and even their regional presence lags.  While they have been moving to change that via investments in the TPE and APCN3 cable systems amongst other initiatives, buying Pacnet would give them a powerful regional presence and far greater control over their connectivity.  It would be an excellent stepping stone toward many other world markets.  As to why China Telecom would now want what sibling China Netcom nonchalantly sold off so recently in mid 2006, I think the earthquake and cable cuts off Taiwan which happened just six months later may have changed some minds.  That event certainly brought home how important that diverse physical connectivity is and how powerless one can be without it.
If a CT/Pacnet deal really happens, one might wonder further about the status of the Unity cable of which Pacnet has been amongst the biggest supporters, and of other systems Pacnet is part of.  But I think that if they do this, China Telecom wouldn't be looking to change or hamstring such projects, but rather to have a hand in all of them.  In fact, the resources they might bring to the table could solidify backing for those projects.
If you haven't already, please take our Reader Survey! Just 3 questions to help us better understand who is reading Telecom Ramblings so we can serve you better!
Categories:
ILECs, PTTs
·
Mergers and Acquisitions
·
Undersea cables